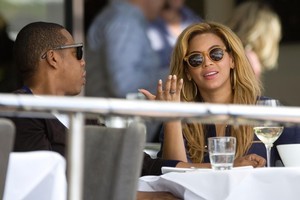 Superstar Beyonce and her husband, rapper Jay Z, enjoyed a late-afternoon lunch at Soul Bar in the Viaduct entertainment precinct yesterday.
The pair made the most of a beautiful day, strolling past packed bars before going to the eatery, where they sat outside in view of plenty of curious Kiwis.
Krissy Thompson and Ryan van Niekerk were at neighbouring bar Snap Dragon for lunch.
They were sitting on the balcony and couldn't believe their eyes when the relaxed American stars walked past.
Ms Thompson took a photo on her phone, then went into the Soul Bar, emerging again with a big smile.
"We just went in to stargaze," she said.
"She's beautiful. I'm American, and they'd never be able to do this in the States - people are too aggressive."
Mr van Niekerk said seeing the larger-than-life pair in the flesh didn't disappoint, but Jay Z still took him by surprise.
"I thought he was big and buff, but he's smaller in real life."
Jay Z is in Auckland as support act for U2, who played their second show at Mt Smart Stadium last night.
Minders sitting near the music duo told the Herald the couple wanted a private lunch and didn't want to be interviewed.