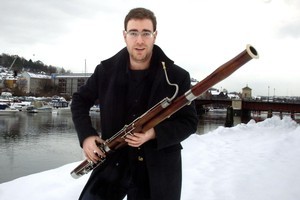 A sense of anticipation buzzed around Auckland Town Hall Concert Chamber on Sunday when Peter Scholes introduced Ben Hoadley's programme, The Virtuoso Bassoon.
Auckland Chamber Orchestra's final concert for the year had, through financial necessity, morphed into a chamber music affair, featuring the bassoonist who would have played the Weber Concerto with the ACO.
Weber was not forgotten. His Andante e Rondo Ongarese, with Sarah Watkins valiantly taking on a pretty thankless piano accompaniment, showed Hoadley could maintain his cool right to the end of a demanding playlist, even in the face of unsparing passagework.
The concert had opened with another lightweight in Frederic Berr's arrangement of a Rossini Cavatina, incomparably lifted through Hoadley's delicate sense of shading.
Predictably, as is often the case with the woodwind repertoire, French composers came out on top, the highlight being Saint-Saens' 1921 Sonata for bassoon and piano, the last work the 85-year-old composer wrote.
Hoadley and Watkins spun textures of exemplary clarity in this elegant swansong; some thorny shifts of key in the first movement were the epitome of smooth. The third movement was a finely realised blend of Bachian austerity and the prettiness of the salon.
Later, Ravel's sinuous and insinuating Piece en forme d'Habanera had Hoadley's bassoon dealing out the mellow and not inappropriate tone of late-night sax.
Hoadley's own Sonata, titled Mai i te whenua marama, was occasioned by homesickness, which might account for its discursiveness.
Although the long central piano solo, roaming from style to style, did not always convince, Hoadley had written himself some appealing pastoral tunes, and brought out some bold tonal contrasts later on in the piece.
The chamber music of Glinka received the blessing of Martha Argerich and her friends back in 2007 when they delivered his dazzling Piano Sextet at that year's Lugano Festival.
Hoadley and Watkins, joined by clarinetist Peter Scholes, made a convincing case for the Russian's Trio Pathetique even if the score does disintegrate into Weber rattle at times.
Still, the melancholic intertwining of clarinet and bassoon in the first movement was genuinely moving, and the stealth of the Scherzo's Vivacissimo admirably fleet-fingered.