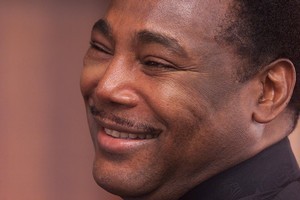 Three years ago, it was Al Jarreau who shared the stage with George Benson, and this time it was Nat King Cole - albeit in spirit.
While much of the audience idolised the ever-so-suave jazz guitarist Benson when they were young, he idolised Cole, and this trip down memory lane on Friday night was a chance for him to pay tribute to the legend.
After showing off his slick jazz guitar tricks with the opener Breezin', Benson kicked off his Cole celebration with a short recording of 7-year-old little "Georgie" playing Mona Lisa on the ukulele.
"I never thought I would be a stage substitute for the great Nat King Cole," Benson said.
But with a voice uncannily similar to Cole's, a wide, bright grin and an enormous stage presence, Benson's covers truly did journey back to the fifties and sixties when Cole was the highest-paid black musician.
Though he didn't sing the song itself, Benson's powerful renditions reminded his audience why any night with Cole was Unforgettable.
From a sweeping version of Mona Lisa to a spine-tingling Nature Boy and finally the hit Ramblin' Rose, Benson cruised forward through history towards his own career highlights.
Backed by the Auckland Philharmonia Orchestra and accompanied by his posse of musical legends on keyboard, drums, vocals, guitar and bass, Benson was not far off when he said the show was almost like watching Beethoven's fifth symphony.
Guitarist Michael O'Neill has played with Stevie Wonder, pianist and music-arranger Randy Whalman started playing with Frank Sinatra and has spent much of his career playing alongside Barbara Streisand, but it was the incredible energy of young drummer Oscar Seaton and joyful bassist Stanley Banks that provided the most background entertainment.
Looking a good 20 years younger than his 67 years, Benson still exudes the boyish charm that makes ladies swoon, and he made sure he shook many of his admirers' hands when they flocked to the stage for a boogie later in the piece.
Groovin' along to You Got the Love, an extended version of Give Me the Night and his closing number On Broadway, Benson gave the audience a lesson on his musical hero and the nostalgic party they were after.