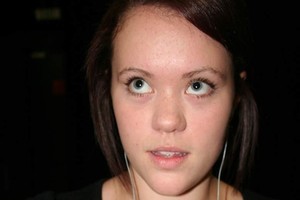 Modern technology meets traditional theatre in a production which aims to draw back the curtain on family violence.
Hush uses the actual and exact words of family violence perpetrators, victims and professionals - from GPs and psychotherapists to police officers.
So determined is the production team to present the most accurate stories possible, its actors use MP3 players in the show so they can repeat the exact words of real-life people whose experiences make up Hush.
Actor Nadya Shaw Bennett portrays a girl who almost from infancy terrorised her family. Shaw Bennett says it was initially challenging to use the technology to replicate not only the words but the inflections and intonations of real people interviewed for the production.
"At first it was a nightmare to get in time with the people we portray because everyone has their own natural speech rhythm but gradually it became comfortable, especially as you know it helps you become as accurate as possible."
Producer Clare Adams says Hush is not finger-wagging or po-faced. With humanity and even humour, it simply stages stories to offer further insight into a complex issue that touches the lives of many New Zealanders.
Adams says although the topic of family violence is grim, substituting actors for the interviewees creates a distancing effect. This alleviates the raw pain of some stories, while several voices heard in Hush speak of hope and transformation.
Hush was created as part of a research project on documentary theatre, led by Hilary Halba and Stuart Young from the University of Otago's theatre studies programme.
In recent years, documentary theatre, also known as fact-based theatre, has become a major strand of theatre internationally. While it sometimes also draws on archived material such as hearings, film footage and photographs, documentary plays usually feature testimony from people, including public figures and ordinary citizens, interviewed in relation to a particular issue.
This material is edited and structured into a script. Often recorded testimony and documents comprise the entire spoken text of a play, hence the term "verbatim". Hush followed a similar format but took the approach a step further.
Actors studied closely the film of the edits they re-enact so they reproduce each gesture and involuntary movement of the interviewee.
Shaw Bennett was invited to join the cast after she completed a theatre studies paper in documentary theatre. She was intrigued by the project and wanted to help address an issue of contemporary importance.
Its first phase involved hours of interviews with people who have personal experience of family violence and others who help those affected by it. Agencies such as Stop Violence Inc, Women's Refuge, Age Concern, the Family Courts and Rape Crisis helped identify suitable participants.
Dramaturg Fiona Graham helped select, edit and structure a 75-minute script using material from the interviews. Graham worked for 20 years in British theatre-in-education and community theatre before moving to Auckland in 2004, and says working on Hush was one of the most intense experiences of her working life. She admits she worried about the effect of watching and listening to so many stories about violence and abuse.
"In the end, I thought it was such an important project that I wanted to be involved. Family violence is one thing people do not like to talk about but it affects so many who often feel as if they are the only one going through an experience like this. By telling these stories, it might help open the topic up for discussion and lead to people getting the help they need. Theatre can be a powerful provocation, something which isn't just for entertainment but a means of making a difference."
Graham says Hush takes audiences on a journey from fear to hope because those interviewed had made changes and were determined to continue improving their lives. To ensure the physical and emotional safety of all concerned, producers worked with an ethics committee and ensured those whose life experiences were being dramatised were part of the production.
What: Hush
Where and when: Musgrove Studio, Maidment Theatre, November 22-27