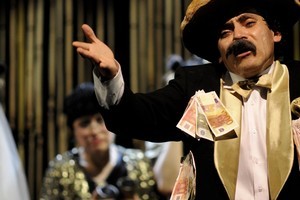 The presence of Jack DeJohnette, one of the greatest jazz drummers in the world, is a major coup for next March's Auckland Festival, announced on Thursday night at Auckland Town Hall.
DeJohnette, 68, will recreate the soundtrack he worked on in 1970 with Miles Davis, Jack Johnson, a tribute to the early 20th century American heavyweight champion boxer who fought on despite being a victim of extreme discrimination.
DeJohnette and his band - sax player Jason Yarde, guitarist David Okumu and trumpet player Byron Wallen - will mix their own live sounds with Davis' music as William Cayton's documentary about the boxer plays on the Aotea Centre screen behind them.
The Miles Davis album features two long tracks - Right Off and Yesternow - and DeJohnette's fellow players on the record included John McLaughlin, Billy Cobham, Chick Corea and Herbie Hancock.
DeJohnette - described as possessing "astounding improvisational ingenuity" - has played with all the big names in American jazz, including John Coltrane, Sun Ra, Thelonius Monk, Stan Getz and Chet Baker.
His Aotea Centre gig is a one-off.
The festival, which runs from March 2-20, has a strong musical lineup, including Australian singer-songwriter Paul Kelly, who will perform four shows in the Town Hall concert chamber, each night playing a different programme of 25 songs performed in alphabetical order, mirroring his new book How To Make Gravy.
The news that American singer Martha Wainwright is in the festival is no surprise; her brother Rufus announced at his recent Auckland concert that she was on the way.
Wainwright has played here before, but New Yorker Taylor Mac, who will be part of the risque late-night Festival Garden shows, is a newcomer.
Mac, a self-confessed "queen", will perform The Ziggy Stardust Meets Tiny Tim Songbook, complete with ukelele and loads of makeup.
Mac's fellow Festival Garden performers are a pack of "anatomically correct" puppets from Colombia.
Adentro Producciones' erotic showpiece Titeres Porno carries an "adult themes and explicit puppetry" warning. Apparently it is very rude.
After creating musical homages to poets James K. Baxter and Hone Tuwhare in two earlier collaborations, producer Charlotte Yates will premiere a new festival commission honouring writer Witi Ihimaera in a show featuring 12 new lyric poems by the Auckland writer performed by, among others, Che Fu, SJD, Warren Maxwell, Teremoana Rapley and Horomona Horo.
The Manganiyar Seduction, performed by a group of musicians from Rajasthan, India, is made up of 42 men - all Muslim except for one Hindu.
They will be bringing their own cooks as well as their instruments - their diet requires dozens of eggs and a kilo of chilli a day.
They will perform at the Civic, the perfect setting for an elaborately staged show in which the men are gradually revealed sitting in stacked, red-curtained cubicles, inspired by the Palace of the Winds in Jaipur.
Live Live Cinema: Carnival of Souls is a hellish enterprise matching the talents of musician Leon Radojkovic and his band Dr Colossus, actors Cameron Rhodes, Charlie McDermott, Bronwyn Bradley and Chelsie Preston Crayford, directed by Oliver Driver, against a backdrop of Herk Harvey's 1962 creepy film classic.
Carnival of Souls will be performed at the Mercury and the Civic.
Classical music fans can look forward to the first New Zealand performance of Berio's Sinfonia, performed by the New Zealand Symphony Orchestra in a Symphonic Odyssey which also includes Also sprach Zarathustra by R. Strauss (the theme to 2001: A Space Odyssey), and works by Ligeti and J. Strauss.
The Auckland Philharmonia Orchestra will perform the world premiere of a new work by the Wellington composer John Psathas, New Zeibekiko, featuring performances by two Greek musicians on clarion, voice and oud.
"An unmistakable Greek feel," says the festival's artistic director, David Malacari.
"Everything bar the plate smashing."
The festival will also include performances by Chinese piano prodigy Xiang Zou, India's Rajendra Prasanna, the NZ String Quartet, four new works inspired by Cambodia played by the NZTrio, and Handel specialists the Lautten Compagney from Germany, who will also play with the NZ Opera production of Xerxes.
Malacari has programmed seven works of theatre for the festival. The international acts include British comedian Daniel Kitson's Interminable Suicide of Gregory Church, Irish company Brokentalkers Silver Stars, a song-cycle performed by a "community chorus of gay men", Swiss mime comedy Gaff Aff, La Odisea, a retelling of Homer's Odyssey by Bolivia's Teatro de los Andes, and two Samuel Beckett works, First Love and The End, presented by Irish group Gare St Lazare Players, starring Conor Lovett.
Red Leap Theatre, the New Zealand company which enchanted audiences at the last festival with its staging of The Arrival, returns with Paper Sky - A Love Story, about a lonely man called Henry.
Massive Company and British writer Lennie James, who together created the international touring hit Sons of Charlie Paora, return with a new collaboration, Havoc in the Garden, a drama about an act of violence in a small Auckland neighbourhood.
Dance fans are catered for with a handful of significant productions - Rapt, a new work by Douglas Wright commissioned for the festival; France Danse, a programme of French dance including two works by top choreographer Maguy Marin (May B, a classic first staged 30 years ago, and Salves, which debuted in Lyons in September), The Show Must Go On by Jerome Bel and Loin (Far), a solo work on foreign invasion and colonisation by Rachid Ouramdane, who has Algerian heritage.
South African dancer Gregory Maquoama will dance a solo work, Beautiful Me, and Black Grace's energetic UrbanYouthMovement will present a new piece, Who Are You? Festival tickets go on sale on Tuesday.