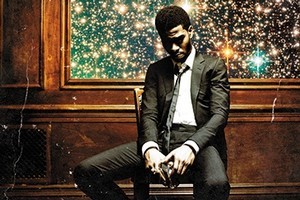 Rating: 2/5
Verdict: Lock up your daughters
Rapper Scott Mescudi, who calls himself Kid Cudi, has not been a happy man of late, despite debut album Man On The Moon, featuring on one of the biggest club anthems of the past year Day'N'Night.
He has confessed his battle with drug addictions, and publicly considered quitting music. However, he battled on to release a sequel, half-hearted as it may be.
Fans of his pop-ish collaborations and dancefloor hits should be warned this album is pretty much devoid of any turn-it-up bangers.
Rather, it takes the dark, warped tack he began on the debut and which earned him the classification of "emo rap", meaning his woozy synth backings are met by vulgar, melancholy ramblings, rather than profound messages.
Divided into five acts, the album tells a story of Cudi, or Cudder, versus an evil world that seduces him with the promise of "trips" and ladies.
Opening with a foot-stomper Scott Mescudi vs The World featuring Cee-lo, and Revofev, the album loses momentum as it progresses towards the very sinister Don't Play This Song featuring a minor cameo by Mary J. Blige.
However, she lifts the album in Act 4's soulful These Worries. Cudi supporter Kanye West features on the album's first single Erase Me which has a strange, out-of-place rock bent to it.
It's an honest, highly evocative album, but its coarse language and theme warnings should not be taken lightly.
-TimeOut