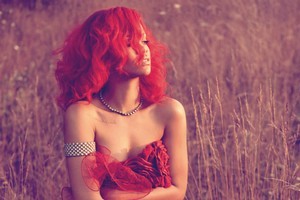 Review: 3/5
Verdict: Reigning R'n'B queen's voice saves a patchy effort
Rihanna was in a dark and stroppy mood on her last album Rated R. Not surprising, given the high-profile domestic violence traumas she went through with former boyfriend Chris Brown.
On fifth album Loud she's back, single and proud. So it's a bit boozy ("there's a party at the bar everybody put your glasses up," she drawls seductively on Cheers (Drink To That), more than a little hoochy ("chains and whips excite me"), and there are a few, somewhat half-hearted, love and break-up moments ("cos I'm so fed up, boy you got me messed up").
However, following the perky yet strong pop of Good Girl Gone Bad from 2007 and the darker Rated R from last year - two modern-day pop gems that well and truly put her on the musical map and made her one of the most in-demand divas around - Loud is a slight step backwards in terms of impact.
Even if it takes a shot at being louder, more celebratory and dead set on letting the world know about her newfound sexual freedom, it lacks that trademark saucy refinement and uniqueness.
S&M is a generic banger, apart from the raunchy and downright dirty lyrics about having sex in the air of all places (rather than on the beach); Raining Men is an erratic irritation and she should leave the jittery hip-pop to M.I.A; and then there are the more forlorn sonic moments, like Fading and the sleepy slow jam of Skin, which sound slightly innocuous.
And if Katy Perry's California Gurls was the Beach Boys-meets-Snoop-Dogg, then Rihanna's California King Bed is a kind of odd mix of Taylor Swift cuddling up to Slash.
Loud is at its best when the dancehall and ragga influence of her West Indian heritage comes through more.
This is implicit on the soft-focus synth-driven single What's My Name?, but she cracks into a quick-fire banter backed up by a whimsical pop reggae chink on the tough and righteous Man Down.
On a more rousing note (or, depending on what you're into, it could be mind-numbing), Only Girl (In the World) pulses along with the trademark synth power and beats of Norwegian production duo Stargate that get a kind of P-funk house-style groove on.
It's on a song like that, and final track Love The Way You Lie (Part II) (a version of her towering single with Eminem) where Rihanna shows off a voice that's both resolute and steely while still being pure and poppy.
But while she's in fine voice, the music is often uninspired and patchy.
-TimeOut