The force behind Canadian supergroup the New Pornographers is looking forward to returning to NZ.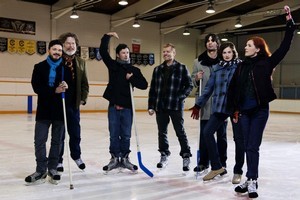 Allan Carl Newman, founder of the Canadian indie-rock-folk supergroup the New Pornographers, has a thing for New Zealand music.
He loves Chris Knox, the Bats and the Ruby Suns to name a few. In fact just a few days before speaking to TimeOut, he was hanging out with Hamish Kilgour of the Clean in Las Vegas before heading off on the next leg of his performance-packed world tour.
He has a soft spot for New Zealand and this is the second time he and his band of eight have performed in New Zealand since forming in 1997.
This time he hopes to take home a better recollection of his Kiwi fans as he is embarrassed to admit the 2008 Auckland show at the Kings Arms was one of his most inebriated of all time. Fortunately this was not reflected in the reviews.
Newman, originally from Vancouver, was formerly a member of indie-rock bands Superconductor and Zumpano, and has released two albums since he launched himself as a solo act in 2004.
He recently moved to a rural home in Woodstock, New York, and is looking forward to testing his songwriting in the new spacious surrounds - he hasn't had a chance yet though, as the band has been touring non-stop since the release of Together in May.
It's a bit of a juggling act to run a band whose members spread from the west coast of Canada to the east of the United States, as well as produce your own music.
Newman says he writes the majority of songs for the New Pornographers and Dan Bejar tops up the collection with a few more. "He's like the George Harrison of the band," Newman explains.
Once they have formed a collection of tracks, the band members take time out from their solo projects to come together, learn the melodies and divvy up the singing.
There's always a family reunion-like feel when they are recording or on tour, Newman says, especially as he has been living in New York for nearly five years and Neko Case is now based in Vermont while most of the others are in Vancouver. "Yeah we don't see each other a huge amount, but in the last few months we have seen each other way too much," he laughs.
Flame-haired folk maiden Case, who shares lead vocals with Newman, is also returning to New Zealand for the second time this year to join the tour.
She was forced to pull out last time as she was running behind on her album, but made it up to fans with a solo concert at the Bruce Mason Centre in January.
Case has always had a dedicated fan-base but her popularity swelled following the release of her latest solo record Middle Cyclone in March, 2009.
This may have boosted the New Pornographers' profile ahead of their latest release, but Newman says the cross-promotion goes both ways.
"Initially we got some attention because she was in the band, and then people discovered us. Then people started finding her because of the New Pornographers so it's been good that way. I think that everybody in the band has been helped by what everyone else in the band does."
LOWDOWN
What: The New Pornographers, a collection of prominent Vancouver musicians who formed a supergroup in 1997
Who: Dan Bejar (vocals), Kathryn Calder (keyboards), Neko Case (vocals guitar), John Collins (bass/guitar), Kurt Dahle (drums), Todd Fancey (guitar) Carl Newman (vocals guitar) Blaine Thurier (keybaords)
Albums: Mass Romantic (2000), Electric Version (2003), Twin Cinema (2005), Challengers (2007), and Together (2010).
When and where: Saturday night at the Kings Arms.
- TimeOut