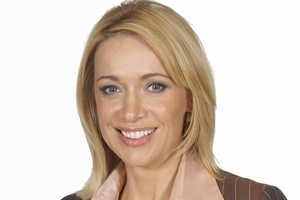 Christmas is coming early for dance instructor Karleen Edmonds who is jetting off to Los Angeles next week with her girlfriend Alison Mau for a romantic holiday.
The pair, who officially came out as a couple at the Queen of the Whole Universe drag pageant last week, were happy to tell me about their holiday plans.
"Other than seeing the top 10 dancers in the US live at So You Think You can Dance, we'll be doing the tourist thing as I've never spent any time in LA," Mau told me. "The trip is Karleen's Christmas present as she's a bit of an LA Lady and loves the place."
The glamour couple have come a long way since I broke the story of their relationship in February. At that time neither Mau nor Edmonds were happy to discuss their relationship, but this week the bisexual TVNZ star was proud to gush about her girlfriend. "I have fallen in love with a wonderful woman and it was just so unexpected," Mau told GayNZ.com.
"It was about trying to gain control over my story," Mau said in a frank conversation with me this week.
"I used to dread Sundays. I used to feel powerless about what was written about me."
I appreciated her honesty. It's fair to say I've been quite tough on Ali this past year. I made crude sexual innuendos about her new lifestyle and the house she once shared with her ex-husband, and for that I apologise.
The truth is I always used to find Mau rather a prickly fish. From the outside she was too prim; too princessy; too bloody perfect. But the Ali Mau I had breakfast with this week is endearingly frank, warm and engaging. I liked her immensely. She knows what she wants and she's not scared to go for it.
Next week, it's Los Angeles with the woman she loves, minus the children. "We're taking the kids to Australia for Christmas with my family," she said