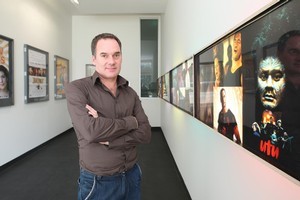 Minor aftershock in Hobbiton: only about 30 of 100 or so RSVPs turned up to the Film Commission's low-budget film greenlight announcement at SkyCity last week. It seems actors are avoiding industry gigs and everybody else was sick of dissecting the hobbits (aka hobbitching).
But even the no-shows probably support the reason for the shindig. The new Escalator scheme gives four teams $250,000 each to make a practice feature, so they're less likely to stuff up when there's real money at stake. That principle is a good one, and many film-makers also appreciate the quick turnaround. Shooting is to start within six months.
Judging by their one-line pitches, none of the four chosen films are going to interest me. I was bemused to find that none are supposed to appeal to film tastes like mine, which extend from mainstream drama and comedy to arthouse. Only pulp-genre projects were seen to fit the "edgy, challenging ...
bold, personal and distinctive" selection criteria. The successful bids are: a post-apocalyptic "salvagepunk Western", Existence; a "suburban mystery thriller", Housebound; a "science fiction fantasy romantic quest", Timeslow; and I Survived a Zombie Holocaust (one of two zombie comedy finalists).
Film Commission head Graeme Mason said the winning stories "should and could appeal to an audience which we thought were not currently being served by the cinema we were putting out".
Are the Armageddon crowd really so poorly served by state-funded adrenalin? The last few years have included films like Perfect Creature (vampires), Black Sheep (horror comedy), Under the Mountain (really, really scary).
Perhaps thinking you can swap vampires for zombies is misguided, even if they both lurk near the dead end of the alphabet. (Twilight with bandages, anyone?). But even so, the point of Escalator should not be to cater for specific audiences but to develop our most talented crop of emerging film-makers, whatever their chosen genre and mood - particularly as the commission is not distributing these films. In their review of the commission, Sir Peter Jackson and David Court are very clear that the commission should be supporting the talented in their creative visions, rather than making them chop and change their best ideas to fit procrustean-bed funding schemes.
Others may be upset that commercial genres are being emphasised, rather than "New Zealand subjects" and "stories with a strong New Zealand perspective", which are what the Film Commission is supposed to encourage. But hopefully we can now accept that not every film has to be a worthy epic to be a New Zealand story. As Black Sheep showed, our accent can take on a genre and make it New Zillun's.
Nurturing talent should also mean ensuring the Escalator finalists can feed themselves. At the moment 12 finalist teams (out of 250 applicants) go to a three-day boot camp and then write a script and create a realistic budget breakdown. Outrageously, the teams are given no money for this, but instead are expected to work on their application almost full-time for nothing for three months, with a 2:1 chance their project will be dustbinned. This selection process would only need some minor tweaking to become a Film Idol reality TV competition. That, at least, could pay to keep our film industry's best hopes alive.