Not even the actors know what's going to happen in new series, The Event. Star Jason Ritter talks to Jacqueline Smith about being left in the dark.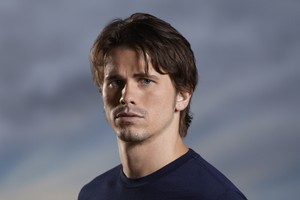 Jason Ritter might be up to filming the tenth episode of The Event, his new action-drama series. But even he still doesn't know what highly anticipated happening the title refers to.
The Event is being described as the next Lost, The 4400 or Flash Forward. Like these twisty dramas, it revolves around a complex mystery that keeps everyone guessing - including its actors.
Ritter plays Sean Walker, a regular guy who in the first episode, loses everything - his girlfriend, his electronic details and his passport.
His search for his would-be fiance Leila Buchanan (Sarah Roemer) leads him to unwittingly expose the biggest cover-up in American history, and into the path of newly elected American President Martinez (Blair Underwood), Sophia, the mysterious leader of a group of detainees (Laura Innes of ER), and Sean's shadowy father-in-law (Scott Patterson.) All we know from the pilot episode is that what happens next leads him to wield a gun on a plane.
And in another scene, a plane is making a beeline for the president.
Sean's storyline - which at first is told in a series of flashbacks - is one of Ritter's worst nightmares: "It's the idea that everything you counted on as being a truth is taken from you. That your girlfriend will be in your room when you get back because that's where she said she would be and you'll get married and your information won't be erased. To have the entire system turn on you is a pretty terrifying thing."
Ritter says that like his character, he has also been left in the dark throughout the series, which helped him convey Sean's panic, confusion and paranoia.
"I enjoy not knowing where it's going and just trying to figure it out as I go along. Sean's trying to get clues from every person he interacts with. So for me, as an actor, I don't know if they are going to be there just for the day, or be a regular on the show. I am trying to glean clues from their character's behaviour as much as Sean is. I'm trying to figure out are they trying to pretend that they are not a bad guy but then flipping a look to the left to look a little more shifty? I've begun to not trust anybody either."
Ritter is experiencing the uncertainty of shooting television episodes as opposed to acting in a film or theatre production exciting - you can't read ahead to find out where your character will end up. "It actually kind of mirrors life in a way because you don't know what's going to happen. You can guess, but you can always be totally blindsided," he says.
The Event is little-known writer Nick Wauter's dream project. The idea came to him as the show he would write if he was given a whole lot of money, Ritter says.
As it happened, his timing was spot-on; he pitched it to producers just as NBC were looking for something to be the next Lost or Heroes.
"Basically they said to the producer they were looking for some big event-type show, to which he said, oh well I might have just the thing for you."
Pilot season rolled around and Ritter only needed to glance at the script to know that he desperately wanted a part in the series.
"I had been working on it a lot harder than I worked on my other auditions. I knew that if I didn't get the part, I would be watching the show," he says.
After working mainly in independent films, Ritter decided to be slightly more selective about what he auditioned for this year, as he didn't want to end up roped into a series he was only marginally excited about and have to turn down film work because of it.
But The Event, and more specifically Sean's character, fascinated him, and he immediately wanted to be part of it. "There was a journey there that I wanted to take."
Ritter was a huge fan of Lost, but he was more intrigued by the writing of The Event than any parallels people have drawn between the two shows. Ritter has even found himself pulling out his inner action hero while filming. He says he will perform his own stunts wherever he is allowed to - there have been shoot-outs and glass-shattering explosions, as well as a scene of him driving away from a big explosion. Only the really death-defying stunts are left to the professionals, such as a cliff jump in the pilot episode.
"That was totally terrifying. Before we got there I was like, well how hard can it be, I'll give it a shot. I didn't see that it slanted out into the ocean and there was a good chance that if you didn't run fast enough you could miss clearing the rocks."
After a successful opening, NBC ordered another 14 episodes of The Event to complete a full season. While high stakes-drama has burned right the way through the first set of eight, Ritter says he has a feeling something huge is about to happen. "I think some other cast members know what's happening, but I don't. But I know it is something. It's not like they are going to figure out what it is as they reach a point of no return."
LOWDOWN
Who: Jason Ritter
What: Plays the lead in new series The Event
When and where: Tuesday, 8.30pm on TV3
Known for: Playing Mark in Parenthood, and being the son of the late John Ritter (Three's Company and Three's A Crowd)
-TimeOut