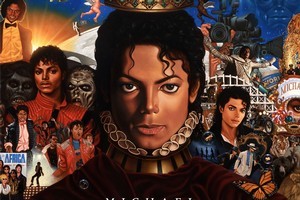 Breaking News: The lead single from Michael Jackson's first posthumous album, Michael, has debuted online amid claims by his family that the track does not include the singer's vocals.
Breaking News, the first single to be lifted from the King of Pop's upcoming album has debuted online today on the late singer's website.
The single has been unveiled five weeks in advance of the new CD, which is set to hit shelves on December 14.
The four-minute track, recorded in New Jersey in 2007, is streaming on www.michaeljackson.com for one week only, and features Jackson repeatedly referring to himself in the third person.
The song begins with audio clips of news reports and headlines proclaiming, "The paparazzi would not leave him alone" and "Here we go again, another lawsuit for Michael Jackson."
At around the 54 sec mark, Jackson kicks in with his trademark yelps.
"Everybody wantin' a piece of Michael Jackson / Reporters stalkin' the moves of Michael Jackson / Just when you thought he was done, he comes to give it again," he sings, along with his signature "ooo-hoo's" and "hee-hee's".
Later on, Jackson also makes reference to his own obituary.
"Just when you thought he was done/ he comes to give it again," he sings, adding, "They want to write my obituary."
"Who is that boogie man you're thinking of?" he asks.
"Now is that strange that I would fall in love / Who is that boogie man you thinkin' of / All went crazy 'cause im just in love / This is breaking news / This is breaking news / Breaking the news."
In a nutshell, it's a stunning Jackson kiss-off and one-finger-salute to the tabloids.
Sony says that Breaking News was recorded by Jackson at a friend's house in New Jersey in 2007, and is one of many tracks that have recently been "brought to completion."
But what hasn't been made clear is just how much production was done on the track following Jackson's death.
And it wouldn't be a Jackson release without some controversy. Several members of his family, including his two eldest children, have reportedly claimed that it isn't Jackson singing on the track.
"I listened to it (Breaking News)...It doesn't sound like him," LaToya Jackson told website TMZ.com.
TJ Jackson, the son of Jackson's brother Tito, has also questioned the song's authenticity.
"There's many MJ vocal impersonators. Some better than others. But there is only ONE Michael Jackson. Deceptively merging shady vocals with MJ samples (from prior MJ records) will never fool me," he wrote.
Jackson's father Jo has also offered comment on the track and the new album.
"If Michael had wanted this music released he would have done so before his death," Brian Oxman, a lawyer for Joe told Reuters.
"The songs which are being released on the new Michael Jackson album were unfinished and incomplete tracks that Michael said over and over many times he never wanted released. We should honour Michael Jackson's wishes," he adds.
Sony's Epic Records on the other hand says it has "complete confidence in the results of our extensive research as well as the accounts of those who were in the studio with Michael that the vocals on the new album are his own."
What do you think?
Have a listen to the track here and judge for yourselves
Blogger Bites Back
* Read more celebrity news and gossip from Myrddin Gwynedd here