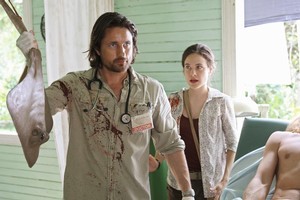 TVNZ is putting its own family of superheroes up against new local series The Almighty Johnsons, which has been named as a pillar of TV3's 2011 scheduling.
Screening on TV2 next year, No Ordinary Family, from the makers of Grey's Anatomy, Desperate Housewives and Lost, is also about a family with supernatural powers.
Neither TVNZ nor TV3 have said when their superhero shows will screen, but The Almighty Johnsons is being touted as the replacement for TV3's flagship local drama Outrageous Fortune, which screens its final episode tonight.
TVNZ's head of programming, Jane Wilson, said the American-made No Ordinary Family would be the "next big thing on New Zealand TV".
She also hailed another new comedy-drama by South Pacific Pictures, creators of TV2's high-rating comedy-drama Go Girls, called Nothing Trivial, about love, friendship and pub quizzes.
New Zealand actor Martin Henderson, who started out on Shortland Street, appears in TV2's new international medical drama Off The Map, by the makers of Grey's Anatomy and Private Practice.
Other new TV2 shows include new zombie series The Walking Dead, which has been well-reviewed in America and picked up for a second season, and an adaptation of Stephen King's supernatural series, Haven.
Its comedy bill includes Hot in Cleveland, starring Betty White, and from the makers of Two and a Half Men, a series called Mike & Molly about a couple who meet at an overeaters anonymous group.
TV One adds to its international line-up a new medical drama, Body of Proof, starring Desperate Housewives' Dana Delany as a surgeon turned coroner, Matt Le Blanc's new series Episodes by the BBC and the makers of Friends in which he plays himself, and a new Australian series Offspring by the makers of McLeod's Daughters.
Also in the local line-up is a follow-up to Marcus Lush's award-winning show South, this time showing off the best of the North Island and Do or Die, which confronts New Zealand's obesity epidemic.
Masterchef New Zealand returns early next year after a successful first season. It will be accompanied by a spin-off, Masterchef Masterclasses, featuring high-profile chefs.