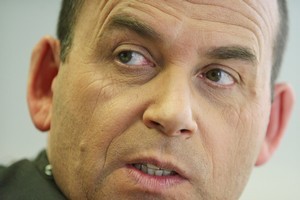 The Broadcasting Standards Authority has declined to uphold a complaint against former Breakfast presenter Paul Henry for comments he made about Asian drivers on June 16.
Following an interview with an AA Insurance representative about drivers top ten frustrations on the road, Mr Henry shared his own personal pet peeve with viewers.
"You know the thing when people, it happens all the time in Auckland, a lot of Asians do it, all of a sudden they just start slowing down and I sit in my car going, 'What? What is it you want? What are you looking for?'"
Co-host Pippa Wetzell interrupted Mr Henry saying, "I don't know if you can say that is just due to one group of people; all sorts of people do it".
Mr Henry responded, "no, other people do it as well because the Asians have taught them how to do it. What do you want? Why are you slowing down?"
The complainant, Peter Riley, made a formal complaint to TVNZ alleging the comments breached standards of good taste and decency, and he was "concerned that such a generalisation is unfounded and contributes to anti-Asian sentiment".
TVNZ responded Mr Henry's comments were made in response to people's personal pet peeves on the road and he was entitled to share his own personal opinion on the matter.
It contended it was "relevant that Ms Wetzell countered the views presented by Mr Henry", and argued Mr Henry's comments were "off the cuff and intended to be comedic".
The BSA choose not to uphold the complaint.

Click here for the BSA's decision.
While the authority said the said Mr Henry's comments were "intentionally provocative and borderline in terms of their acceptability" and "perpetuated a negative stereotype" about Asian people many would have found offensive, the Bill of Rights Act 1990 gives people freedom to express their opinions.
"In our view, the Bill of Rights Act allows people to express opinions that others may find offensive, illogical or rude," the BSA judgment said.
"We consider that the host's comments on this occasion, while deliberately provocative and ill-conceived, were not sufficiently objectionable as to warrant us imposing a limitation on the broadcaster's freedom of expression."