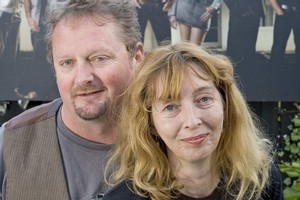 Scriptwriters from television, film and theatre will be honoured this Wednesday at the New Zealand Scriptwriters Awards.
The event, the first time writers have had a dedicated awards night, is being put on by the New Zealand Writers Guild, an association and registered union representing writers across film, television, theatre, radio, comics and new media.
"The whole awards come from us wanting to celebrate the achievements of our members, and to create a strong profile for writers in New Zealand," says NZWG Executive Director Steven Gannaway.
While writers have a presence at the Film and Television Awards, the new awards are part of an overall strategy by the NZWG to achieve greater recognition for writers in general, particularly as they lobby to have rules around New Zealand Film Commission funding changed.
"One of the key things we're looking to improve for writers is not only the rates they get paid, but their ability to retain control of their material, at least in the early stages of development," said Gannaway.
Under the previous system, development funding from the New Zealand Film Commission could only be given to a project via a producer, so writers had to sell their scripts, potentially losing creative control at an early stage.
The Film Commission introduced a writers development loan initiative at the end of last year, making a limited amount of funding available direct to writers.
However the guild would still like general feature film development funding to be open to "film makers", which would include producers, writers and directors, rather than just producers.
Local and overseas members of the industry make up the judging panel, and works must have been screened or staged to be eligible for the seven categories, but that number may grown in future.
"We wanted to start out gently," says Gannaway.
"We wanted to work out how best to run them, what best suits the needs of our membership, and - because it's made work - we're somewhat limited by what has actually been made in the previous year."
Full list of finalists
Best Feature Film Script
Gaylene Preston Home By Christmas
Mike Riddell The Insatiable Moon
Briar Grace-Smith The Strength of Water
Taika Waititi Boy

Best Short Film Script:
Sam Peacocke Manurewa
James Blick Roof Rattling
Paul Stanley Ward Choice Night

Best Play:
Pip Hall The 53rd Victim
Natalie Medlock and Dan Musgrove Christ Almighty!
Fiona Samuel Ghost Train
Best TV Comedy Script:
Kate McDermott Go Girls (Series 2, Episode 9)
Gerard Johnstone The Jaquie Brown Diaries (Episode 4)

Best TV Drama Script:
Rachel Lang Outrageous Fortune (Series 5, episode 17)
James Griffin Outrageous Fortune (Series 5, Episode 16)
Donna Malane and Paula Boock Bloodlines
New Writer Award:

Sam Peacocke Manurewa
Natalie Medlock and Dan Musgrove Christ Almighty!
Mike Riddell The Insatiable Moon
Industry Mentorship Award:
Rachel Lang
Roger Horrocks
Glenis Giles
* The awards (hosted by Oscar Kightley) will take place at Jubilee Hall in Parnell, Auckland this Wednesday from 7pm.
* Tickets ($35 for NZWG members, $45 for non-members) include wine and canapes and are available from NZWG