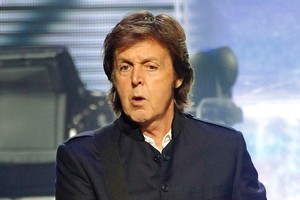 Rating: 5/5
Verdict: McCartney's finest solo album, now expanded ... and expanded again
Paul McCartney - whose life seems blessed, aside from the Heather Mills debacle - isn't a man who has suffered for his art. But his breakthrough album of 1973, Band on the Run, was a battle against the odds.
Its predecessors were his McCartney solo debut of 1970 (a low-key clearing house for mostly half-finished ideas), the much more creditable Ram, the limp Wild Life (with his new band Wings) and the patchy Red Rose Speedway.
By mid-73, despite hit singles (My Love, Live and Let Die), McCartney's solo career looked wobbly.
Deciding to record the next Wings album in an EMI studio outside England, he chose Lagos but before their departure, drummer Denny Seiwell and guitarist Henry McCullough quit. So McCartney, wife Linda, loyal guitarist Denny Laine and Beatles engineer Geoff Emerick went to Nigeria ...
and discovered the primitive studio didn't have a vocal booth. Then he was mugged and his demo tapes stolen.
Yet McCartney pulled out the first great album of his solo career. It sold seven million.
BOT Run remastered comes in many versions: the single nine-song CD; a double-CD version with songs from the One Hand Clapping television special, plus a DVD film; and the deluxe three-CD and DVD set with a 120-page hardback book and other extras.
Repackaging/remastering aside, does the music stand up almost four decades on? Certainly: the increasingly urgent, autobiographical title-track opener sets the tone picked up in Jet - one of his best rockers - as an impressive double-whammy. Jet is lightly echoed towards the end in the slightly woozy and beautifully orchestrated Picasso's Last Words, and the album closes with a Band reprise which gives it a loosely conceptual feel.
Picasso's Last Words shows McCartney's casual craftsmanship. It was written after Dustin Hoffman asked him to pen something using Picasso's last words (allegedly, "drink to me, drink to my health"). Let Me Roll It, a standout, is closer to Lennon's edgy Cold Turkey and the pop-smart Mrs Vanderbilt (also echoed in Picasso) was, improbably, voted the most popular McCartney song by Ukrainians in 2008. Mamunia is a typical McCartney make-weight however, but the breezy Bluebird adds breathing space.
Jon Landau in Rolling Stone considered the album "the finest record yet released by any of the four musicians who were once called The Beatles".
Maybe if McCartney had endured a rougher ride in the following decades we might have had more albums like Band on the Run, a triumph against the odds.
-TimeOut / elsewhere.co.nz