Jesse Eisenberg of Facebook movie The Social Network talks to TimeOut about playing a dot-com wonderboy.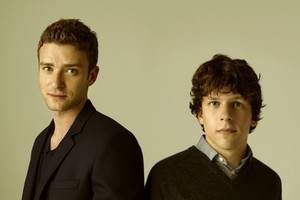 No he's not on Facebook (for the millionth time). Yes, occasionally he mistakenly gets told "you were really good in Juno" (that was slight lookalike Michael Cera).
And yes, he's surprised as anyone that a movie about some brainy teen and twenty-somethings arguing among themselves just might be the filmof the year.
Such is the lot of Jesse Eisenberg, whose portrayal of Facebook inventor Mark Zuckerberg is the break-out performance of The Social Network.
The much-praised film, directed by David Fincher and written by Aaron Sorkin of The West Wing fame was adapted from Ben Mezrich's The Accidental Billionaires, tracing the contentious lawsuit-laden birth of Facebook from a Harvard dorm-room invention to the 500 million-user web phenomenon that has made Zuckerberg an internet titan at the age of 26.
The film eventually centres on the stoushes between Zuckerberg and original Facebook chief financial officer and investor Eduardo Saverin (Andrew Garfield) as well as the claims of Harvard classmates Cameron and Tyler Winklevoss and Divya Narendra. All four sued Zuckerberg and Facebook, claiming a hand in its invention, winning undisclosed settlements.
Also involved in the movie's fray is is Sean Parker, the dot-com rockstar of Napster fame, played - possibly ironically - by popstar Justin Timberlake. But the film centres on Zuckerberg. And for 27-year-old Eisenberg, The Social Network is his entry into the big leagues after a film career playing shy, sensitive types in indie dramas (The Squid and the Whale, Rodger Dodger, Holy Rollers) and outlandish comedies (Adventureland, Zombieland).
He shares a similar background to Zuckerberg - professional/academic parents and a product of New York middle-class suburbia.
"But the difference is, he is exceptionally brilliant and I shoot zombies. I would rather have his skill-set than mine," laughs Eisenberg from a Sydney stop on the promotional trail for the film being touted as an Oscar frontrunner.
However, Eisenberg says his urge to become an actor has parallels with Zuckerberg's to create a way to connect to others.
"Yeah, when I was a younger I had a similar problem to Mark in the movie. He doesn't know how to fit in in school and instead of just feeling bad for himself, he creates this wonderful tool that allows him to interact and feel more comfortable. I did a similar thing. I felt like I didn't fit in at high school and I started acting because I sort of counter-intuitively felt more comfortable being other people. It helped me cope in a healthy and productive way."
Eisenberg's portrayal suggests Zuckerberg as brilliant, socially, awkward, insensitive, tunnel-visioned and more concerned with intellectual one-upmanship than money. By the end, it's hard to know whether you want to "friend" the guy or slap him.
"One of his defining characteristics is that he doesn't prioritise other people's opinions of him. He is so focused on his invention. The way other people feel about him is less important. If you view him as a creative person, you give him a lot more leeway. Because he's young and a billionaire, we tend to to demonise him because you want somebody like that to not do well because they seem to have everything.
"But he doesn't care about money and he is the kind of person who wants to be creative. He wants to maintain this website and maintain and expand his creation."
Zuckerberg has largely dismissed the unsanctioned film, though complimented it on its accuracy of his undergraduate wardrobe: "It's a such a big disconnect from what people who make movies think we do in Silicon Valley. They just can't wrap their head around the idea that someone might build something because they like building things."
Sorkin and Fincher have been at pains to say their film is fact-inspired fiction. That Zuckerberg is a character in a 21st century morality tale, where class and social standing still counts, especially in the elite ivory towers of Harvard.
Eisenberg has never met Zuckerberg, though he has a cousin who works for Facebook who told him Zuckerberg thought it was "cool" he was playing him in the film. But he says his research and that of Sorkin and Mezrich on the character was thorough. Though the more he studied the real Zuckerberg, the harder he was to define.
"There are so many almost conflicting descriptions of him and there are things that are difficult for me to fully absorb. Like, he's worth $7 billion but he lives in this very modest house. After he was a multi-millionaire he was sleeping on a mattress on the floor. He dismisses his friends in the movie in favour of this creation. In some ways the more I know about him the more enigmatic he becomes. But I was really focusing on this character and how I could defend and sympathise with this character."
And defend him, quite literally, he must, in scenes where Zuckerberg and his lawyers face those who claimed to have helped Facebook become what it is today. Like the rest of the movie, these scenes are rich with crackling dialogue - a Sorkin trademark - for actors the equivalent of a triathlon, something Eisenberg was up for.
"The dialogue I have trouble with in movies is when it is inconsistent with the character. Even though this dialogue was so fast and in many ways very complicated, I didn't have a problem with it because it seemed very natural to the character. My character is the kind of person who can have 10 conversations at the same time and there is nobody better to write that than Aaron. It is the kind of triathlon that you feel energised by rather than exhausted by."
LOWDOWN
What: The Social Network
Who: Starring Jesse Eisenberg, Justin Timberlake and Andrew Garfield
When: Opens at cinemas on November 11
-TimeOut