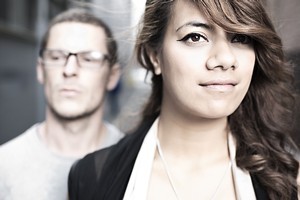 Your first album was reflective and sometimes sad. But The Liberation Of has a more lively mood.
Ladi: We wanted to showcase what we do on stage, and the energy we have. We felt Time Is Not Much was really confusing because it wasn't really an indication of what we were like live. But The Liberation Of ... is also about a burst of creative inspiration from our time in Berlin and our experiences around Europe.
Parks: And it wasn't like we spent two months in a studio. We were gigging in between times, a lot of it was done in hotel rooms, on the road, and it's a reflection of everything that was going on around us - the chaos, I guess - and a lot of it was spontaneous.
What was it like touring with Gil Scott Heron in Europe and did his influence rub off on you?
Ladi: It's a little embarrassing because I didn't really know who Gil Scott Heron was, and to learn he was one of the founding fathers of rap ...
it was amazing for the whole reason of being able to go, 'Wow, you're still going, and you still sing with messages that still mean something'. We're coming into our 30s and it made me realise that we have a long career ahead of us.
Tell us about the inspiration behind Like Water.
Ladi: It's my first love song. And it's funny how it came about because we had German TV but didn't understand it so we would spend our evenings on our laptops. And I'm looking up Bruce Lee and he's doing an interview and he gets to that classic line, 'Be like water ...', and it reminded me of Parks and I and how we are kind of like water in our life. We're just going with the flow.
*Ladi6 plays the Powerstation tomorrow night.
-TimeOut