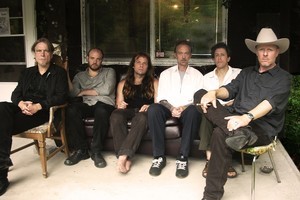 Rating: 4/5
Verdict: A brutal but beautiful collection from reformed industrial pioneers.
The Swans, led by guitarist, singer and extreme music wizard Michael Gira, started out as a brutal - at times violent - musical force in the early 80s in New York. With contemporaries including everyone from Sonic Youth and Nick Cave to musical industrialists Skinny Puppy and Coil, Gira and band destroyed sonic boundaries. But the release of the excellent and epic Children Of God in 1987 showed they were capable of both fierce musical brutality as well as stunning sensitivity and beauty.
And the band's first album in 14 years - after Gira put the band on an indefinite hiatus - mixes both in what moves from sounding like doomed cabaret to industrial folk and then into something distressing.
It strikes you how immense the Swans (who play the Powerstation on March 6) can be on the relentless wail and bludgeoning din of My Birth, which also has the weird and wonderful flailing percussion of 80s industrial music.
The disturbing Eden Prison has a similarly slugging industrial pulse; on Jim Gira is like Nick Cave, only more taut and tense if that's possible, as he works himself up into a stupor; and midway through the album there is a horrific sonic assault like a grand piano being tortured by an obnoxious brass ensemble. But somehow, through it all, this harrowing music is also beautiful and strange. It gets into every orifice of your physical and spiritual being which makes it enlightening - if unnerving.
-TimeOut