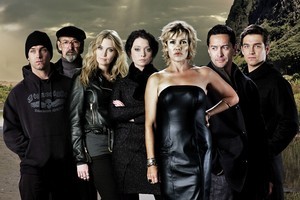 The sixth and final series of Outrageous Fortune has drawn more viewers than any other season as Cheryl West and her brood have ingrained themselves in the national psyche.
Here's a recap of the 10 highest-rating episodes in the show's run, to jog the memory and give us some idea of how explosive this week's finale might be:
1. What A Rash And Bloody Deed Is This (series six, episode one)
The first episode of the final series followed on from the intense cliff-hanger that saw bloodshed on the steps of the West house following Loretta's wedding. Someone was going to die and many thought it would be Pascalle, who was shot in the chest. But it was Gerard, who Cheryl bottled in an attempt to protect her daughter. Suddenly Cheryl found herself charged with murder - and, to her family's horror, pleaded guilty.
2. To A Radiant Angel Link'd (series six, episode three)
Pascalle's slimy lover Nicky was still hanging around like a bad smell even though he was in prison.
Loretta went to visit him to discuss the possibility of her taking over his prostitution business. Pascalle was also looking for work and, realising Grandpa was on home detention, pestered Judd to hire her as his replacement. Her unorthodox salesperson techniques (shoplifting and blackmail) ended up landing her the position.
3. Go seek him out (series six, episode seven)
Nicky was sentenced to nine years' imprisonment for robbery but escaped before he even made it to jail. According to CCTV footage, he had skipped the country. Pascalle was upset that he had left without saying goodbye, but Ngaire, who was in on his escape, led her to Nicky's hiding place. There, she abandoned her morals and forgave him when he attributed his actions to his love for her.
4. Thy Loving Father (series six, episode ten)
Van tracked down the adoptive parents of Sheree's twins and decided he wanted them back. Only thing was, the adoptive father was a cop and Judd knew that was the last thing the Wests needed hanging around them. In the end, Loretta managed to turn Van around by letting slip that the twins could easily belong to Jethro, as he had also been sleeping with Sheree, and distracted him from his dream of fatherhood by appointing him manager of the Tool Guys.
5. Do Your Mother's Commandment (series six, episode two)
With Cheryl locked up, Pascalle took it upon herself to play mum, to Loretta's great annoyance. Meanwhile, Cheryl was sitting in prison stressing out about the flirty young lawyer Bailey's influence over her family. The West's dirty laundry became too much for Judd and he announced he was leaving, saying that by pleading guilty, Cheryl had effectively ended their relationship. This was enough to get Cheryl to change her guilty plea, much to Bailey's delight.
6. Who Comes Here? (series four, episode eighteen)
As if it wasn't crazy enough that Grandpa was actually getting married, the event itself turned into a circus. Cheryl found Van and Sheree in bed together. Judd found Munter getting Grandpa stoned before his wedding. And then Wolf and Jethro crashed the ceremony, starting a row that saw the Wests and their associates throwing punches - and pavlova - at one another. This was also the episode Van found out he was the father of Sheree's twins and Pascalle proposed to Nicky.
7. Dangerous Conjectures (series four, episode seventeen)
Amid the chaos of Grandpa and Ngaire's wedding plans, Pascalle found out her mum was pregnant and hadn't told her partner Judd. As if that wasn't enough of a shock, Wolf arrived unannounced to try to warn Pascalle about Nicky. While he's in town, he calls it off with Sheree, then tells Cheryl, assuming she'll want him back. Of course she doesn't. And when, out of spite, Pascalle reveals her mum's secret to Judd, he is over the moon.
8. Follow Her Close (series six, episode nine)
Aaron Spiller may have been head over heels for Pascalle, but the idea of her actually giving into his gawky charms didn't float with Judd. It turned out she had been sneaking around with Nicky and was thinking of leaving the country with him under a false passport - but she realised she couldn't leave everyone behind.
9. The Power To Seduce(series six, episode five)
Van might have pulled out all charms he had in his arsenal but it wasn't enough to get Bailey to fall in love with him. Instead, she got cosy with Jethro and they ended up conspiring between the sheets as well as in dodgy business. She'd run to him after the Booty Call girls Kasey and Rochelle (pictured) harassed her client Quentin, who was trying to get off drug charges. Meanwhile Pascalle lambasted Loretta for running her hooker business out of the basement, only for Loretta to slap her in the face with the news that the hookers belonged to her beloved Nicky.
10. Make Mad The Guilty And Appal The Free (series six, episode four)
Life behind bars got a little more exciting when Cheryl took on bully Scary Mary in a bid to protect the not-so-bright Debz. Meeting with the prison warden, Cheryl took the opportunity to suggest ways the prison might be improved, such as throwing a Hoochie Mama party. Bailey reminded Cheryl that her main focus should be vacating her guilty plea, which was later granted. But when Cheryl organised a riotous strip by inmates for their visitors, she found herself transferred to Christchurch prison.
-TimeOut