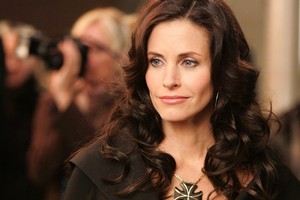 Cougar Town star Courteney Cox says her marriage to David Arquette isn't over yet.
Speaking out for the first time about her split with Arquette, the star says she's not heading for the divorce courts just yet, adding that they're still trying to work things out.
"I don't know what will happen, but this is not like we're getting divorced," she told TV Week. "This is a separation and I think that takes a lot of courage. That's for sure the biggest thing I've ever done. Whatever is supposed to happen will be the best thing for us."
Cox, 46, and Arquette, 39, announced their split two weeks ago after 11 years of marriage.
They said in a statement: "We have agreed to a trial separation that dates back for some time. The reason for this separation is to better understand ourselves and the qualities we need in a partner and for our marriage.
We remain best friends and responsible parents to our daughter and we still love each other deeply. As we go though this process we are determined to use kindness and understanding to get through this together."
Still, Cox acknowledges that she and Arquette have drifted apart.
"Sometimes you just realise 'Wow, we actually have grown apart'," she says.
She also dismissed reports that she had an open marriage.
"I always thought of myself as the greatest wife because I'll do whatever I want to do and I don't mean open marriage, that's not what we had.
"I am not doing anything. No dating," she added. "I hate to go out, so, I don't know how that would work. I'm a homebody."
As for those Howard Stern interviews...
Arquette was interviewed by Stern a day after the split announcement, revealing how he cried the first time he had sex with another woman after the split.
He also revealed details about their barren sex life - not having sex for four months - and the fact they had no prenuptial agreement.
Although Cox was furious with her estranged husband at the time, she now puts it down to him being a "kook".
"He's [David] a kook. It's not shocking and Howard Stern he loves him and I'm a fan of Howard Stern. I don't know that I would call him right now, but...David is an entertainer and I'm sure the people who listen to the radio are entertained by his stories."
What Friends are for...
Cox also says she's been leaning on Jennifer Aniston for support as she copes with the split.
"We just have fun, we laugh, we're inseparable and it's great," Cox says.
"It's funny, a lot of really close friends are kind of going through this right now or like Jennifer [who] has gone through it. I don't know what's going on in the planets or what, but things are being shaken up and I don't know what's going to happen, but, yeah, Jennifer has been amazing for sure."
I hope these two can make things work, especially when there's a kid involved. The couple has a 6-year-old daughter, Coco.
Stay tuned...
Sparkly boobs
Sparks fly, literally, from pop warbler Katy Perry's boobs in her latest video for Firework.
The promo, shot in Budapest, sees newlywed Perry trade her carefully-positioned cupcakes from the California Gurls video for a pair of sparklers.
Explaining the booby cannons, she said they symbolise the fighting spirit and "life spark" latent in all human beings.
"I think that in life, people are challenged to get to where they want to be and to reach their goals," she wrote on her official website.
"Hopefully they can hear this song and find out that those challenges aren't really difficult to get past."
She also dedicated the video to the It Gets Better project - dedicated to helping gay youth combat bullying and realise there is hope. It gets better.
Lohan's funny
Rehabbing starlet Lindsay Lohan's personal life might be in the doldrums, but she hasn't lost her sense of humour.
LiLo pimps her comedic talents in this PSA in support of the American Jewish World Service, directed by Judd Apatow.

Strip joint inspiration
She's tenacious; I'll give her that.
Reality starlet-cum-singer Heidi Montag, who made her first red carpet appearance with on-again, off-again husband Spencer Pratt on Saturday, is gearing up to shoot a music video.
The wannabe warbler revealed on Sunday that she's conducting research for the video for I'll Do It by heading to a strip club.
"Going to Hustler strip club want to pick up some tips for my music video 'Ill do it' that I am shooting next week," Montag tweeted.
Listen (and sing along) to I'll Do It below:
"I'll be your blonde tonight
If that's what you like
Stilettos and fishnets
If that's what you like
I'll be your hot mess
School girl in curls
Whatever your type
Baby if that's what you like
I'll do it"
Let's humour her. The video might be better.
"Stilettos and fishnets, if that's what you like..."
I'm expecting BIG things.
Betty White: 'I love older men'
Is she kidding? The woman's 88!
White told Parade magazine: "I've always liked older men. They're just more attractive to me. Of course, at my age there aren't that many left!"
The currently single star adds, "I've enjoyed the opposite sex a lot," she said. "Always have. Always will."
Jackson album fraud?
This is just bizarre.
TMZ reports that members of Michael Jackson's clan claim an upcoming album of unreleased Jackson songs is a fake.
Sources tell the website that MJ's kids Paris and Prince believe some of the songs are fakes - as in not featuring Jackson's vocals.
I'll definitely be keeping an eye on this one. Stay tuned.
Blogger's Briefs
This lot just in...
* Legend guitarist Slash calls off his divorce
* Sneak peek: First full Tintin pictures
* Mel Gibson will face Oksana Grigorieva during deposition
* Portia de Rossi opens up about eating disorder: 'I would only chew gum'
* AnnaLynne McCord & Kellan Lutz split
* Mel Gibson's hobo Halloween costume
* Fergie named Women Of The Year by Glamour magazine
* Chris Pine 'too busy for a girlfriend'
* T.I. tweets farewell to fans, surrenders for prison
And we're done.
Catch you later, scandalmongers!
Blogger Bites Back
* Read more celebrity news and gossip from Myrddin Gwynedd here