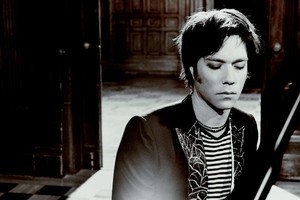 Trick or treat? Rufus Wainwright slowly pads his way to the grand piano. His face is in white, the rest of him is draped in something long, black and feathered. Good thing this is the Civic. For on this Halloween night, the town hall's pipe organ might have brought him out in the full Dr Phibes.
Such is the start of Wainwright's second Auckland performance after an earlier, cheerier excursion in 2008. The highbrow singer-songwriter had been originally due earlier in the year for the international festival of the arts but postponed due to the death of his mother, Canadian folk singer Kate McGarrigle.
The emotional turmoil of the time preceding her passing apparently inspired his latest album All Days Are Nights - and a performance of its intense "song cycle" which marries dear-diary musings, longing love songs and Shakespeare sonnets to grandiose Gershwin-gone-gothic piano arrangements forms the first half of the show.
The opening set comes complete with a video backdrop offering multiple variations on an image of a heavily shadowed, slowly-winking eye as well as a curious request - please no applause until Count Rufus has exited the stage, his musical catharsis complete.
It might sound a grand indulgence. But its sheer claustrophobic intensity makes it something deep, dark and gripping.
Musically it's not perfect. Some of his more extravagant runs up the Steinway miss their mark. But if Wainwright overstretches himself technically, and the dots don't always join thematically on the songs, it's hard not to give in to the melodies and the big sad beating heart in his art.
The power of the All Days Are Nights set of the first half rather eclipses the relaxed and applause-welcome amble through his earlier songbook that makes up the second.
It too has its indulgences and wayward touches. Like a curious reprise of What Would I Ever Do with a Rose from the first half, a false start on one song, a missed verse on The Art Teacher and despite the venue - the glories of which Wainwright compliments - there's no Release The Stars to bounce off the Civic's famous stellar ceiling.
Still, Wainwright is in entertaining good humour in between the songs and gets in with the Halloween jokes about his earlier fancy dress first.
And in full flight, the combo of his reedy tenor and baroque playing are quite something. He reminds why his take on Leonard Cohen's Hallelujah is possibly its best. While there are echoes of the sad poignancy of the first half throughout. That's whether its his tribute to the Jeff Buckley on Memphis Skyline; Dinner at Eight, which addresses his once-estranged father Loudon Wainwright III; And in the encore, he closes sweetly with his take on The Walking Song, a song his late mother wrote for his father.
It's one to end a strange but special night and yes, a definite treat.