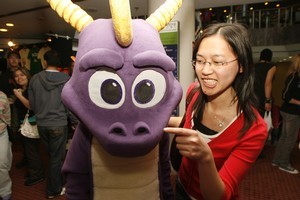 I thought the reason I had the city to myself over the weekend was that everyone had skipped off to the Coromandel. But as I was to find out, it was also because thousands of them were celebrating Halloween early in a windowless convention centre.
I had never been to an Armageddon expo before. This is mostly because I am neither a great fan of science fiction movies nor computer games. And I don't particularly like expos either.
Armageddon, as well as being a 1998 film, is a word that describes a place where light and dark forces meet in battle, which, if you ask me, is rather a heavy thought for a hot, sunny long weekend.
Despite sounding decidedly unenthused about the whole thing, I did actually decide to give my skin a break from the sun and expand my horizons with a trip to Greenlane. And that's how I ended up standing in a queue with people who had gone out of their way to defy the weather by teaming floor-length black pleather outfits with talcum-powdered faces for the occasion. Ah yes, a place where dark forces meet light.
Actually to be fair, I only saw about five of these frightening outfits.
The most brow-raising were the amateur wrestlers, who clearly hadn't thought about changing into more suitable underwear before rushing out the door that morning. But elsewhere, less-outrageous punters were dressed in superhero T-shirts, as harajuku girls with knee-high socks and pigtails, or as ghouls wearing white contact lenses over their irises. Just a few examples.
I may have felt a little overwhelmed had I not brought a wing-woman - my friend who has always been obsessed with Star Wars. I failed to understand it when we were at kindergarten together, and I can't understand it now, but I do respect her interest in the world of lightsabre-fights. I even took pictures of her with a Storm Trooper and R2D2 for her to use as a screensaver on her cellphone.
It amuses me that this friend of mine actually looks more like a tanned, blonde Miami Beach resident than the stereotypical Armageddon-goer, who I tend to picture as someone who plays video games in their basement. But, what I discovered about the science-fiction subculture was that anything goes.
Take for example, the inclusion of past Survivor contestants Jerri Manthey and Jonny Fairplay (the first to be voted off Survivor: Micronesia). These reality stars were there among the science fiction stalls, signing autographs all afternoon. Manthey scribbled "To Jacqui, follow your dreams" on my Armageddon souvenir, while Fairplay hit on my very awkward friend.
I also caught a glimpse of David Faustino, who played Bud Bundy in Married With Children from 1987-1997, and I decided against joining the snaking queue for a picture with Michael Biehm, who played Kyle in The Terminator in 1984 and starred in Aliens in 1986, but I stood very near him and took a mental picture. That's when I started feeling a bit of the fandom I had been trying to conjure up as I walked past the stalls of laser strike, X-box and mythical card games.
As an Armageddon newbie, I wasn't quite sure how to make myself seem excited about these things, much as I wanted to be. Comic artist Nicola Scott empathised, explaining that she was new to sci-fi and comic fandom when she started drawing Wonderwoman a few years ago.
She remembers being overwhelmed by the crazed, fancy-dressed fans at the first conventions she attended, but soon realised it was no different to any obsession.
Wonderwoman is the classic example of a fantasy fandom, as ladies all over the world have identified with her since she emerged in the 1940s. As the turnout and the excitement at the expos show, it's the fans who keep Wonderwoman and all her Armageddon friends around for everyone else to enjoy. Just as New Zealand Hobbit fans, who feel some ownership over the film, might keep the Hobbit around for us all to enjoy. Instead of worshipping the sun last weekend, these passionate Hobbit and Armageddon fans were turning Auckland into a fiefdom of fandom. And they'll probably do it all over again this weekend. They, of all people, know no Halloween party is complete without a Bilbo, a Wonderwoman and lashings of pleather.
-TimeOut