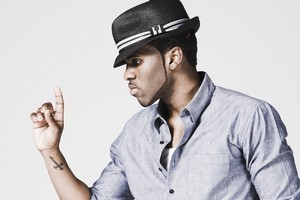 Jason Derulo is known for being the nice guy, and the smooth-talking 21-year-old insists the past 12 hours of interviews have been "an absolute pleasure".
This is one of the year's biggest pop names who says he would never deny a fan an autograph, and who tells journalists he wants to heal the world with his music.
That might sound a lot like a Michael Jackson lyric, which isn't surprising, as like many musicians, Derulo says it was watching the King of Pop's video clips in the late 1980s that made him decide to be a popstar.
"I always felt it was my destiny to share my music with the world. I always believed," he coos down the phone from California.
Like Jackson, Derulo has a love of fancy footwork and hat grabs in his performances, as well as that philanthropic streak he likes to talk about.
"My mum was someone who on Sundays would feed the homeless - that's how I was raised, you know.
I would like to help fund finding the cure for cancer or Aids, I really have a weakness for people who are ill and I want to be someone who helps."
Those are long term goals. He would like to record another album. And to take up acting - he says he has a pile of scripts he hasn't had a chance to look at.
Right now, Derulo says he barely has time for sleeping between interviews, shows and appearances. He often has to weigh up the option of stealing three hours sleep, or going to meet the ladies in the club.
While he is a generous, kind-natured sort, Derulo is quick to announce that he has one-night-stands as well. "I think I come off a little cleaner than I really am," he told the Independent in a recent interview, before elaborating to say he had even had a menage-a-quatres.
Though he's only young, and, by his own admission, still learning the game of romance, his escapades inspire most of the songs on his self-titled debut album, released in March this year.
It's been a fast road to fame since the album launched with his US chart topping single Watcha Say. Firstly, he changed the spelling of his name from Desrouleaux to the easier Derulo, and added two dots above the 'u' to make a smiley face.
But the seemingly level-headed boy from small-town Florida has been preparing for fame for as long as he can remember, after brushing off the mockery his peers gave him for attending singing, dancing and theatre lessons as a child. The wheels were set in motion when he met Lil' Wayne's mentor Birdman, from Cash Money Records when he was still in high school, and won the grand finale of American television talent show Showtime at the Apollo.
Last year, he was signed to J.R Rotem's label Belugo Heights and moved to Los Angeles to work on an album. Next thing he knew, he was a poster-boy pop-star.
Derulo insists he hasn't changed since finding fame - he has always lead a bit of a hectic lifestyle.
"My sleeping pattern was always pretty crazy. I'm an avid napper. If we're driving to the radio station and it's 15 minutes, I'll take a little nap."
He says he is humbled by fans and everything they have brought him in the past year - especially being able to perform across the four corners of the globe.
"I feel like I have grown up a little bit. I have probably seen more than what a lot of people will ever see in their life."
That includes opening for Lady Gaga during her American Monster Ball tour this year.
"Being on tour with such a monster is amazing. I have always said I wanted to tour with either her or the Black Eyed Peas. It was a tremendous honour to be on tour with her. She was an absolute sweetheart the entire time and helped me through the whole process. She made it really smooth and easy going," he says.
Like Gaga, Derulo promises his fans plenty of sass and costume changes during his live performances.
"I'm a true believer in fashion being a reflection of who you are so I want what I'm wearing to reflect the song and who I am."
So who is Derulo, other than a nice guy who sings, dances and gets lots of girls? Well, he concedes he hasn't ridden his good looks and lovely personality all the way to fame.
His first radio hit Watcha Say is catchy and connects with people, he says.
"The song is real you know, it's something that people go through every day, that's why it's so easily attainable. It really cut through radio because nothing was like it."
He also admits he can't sign every single autograph. And that sometimes fans can get a little crazy: he was once mauled by a girl who ended up ripping his shirt and leaving scratch marks on his back before his bouncer could get rid of her.
Derulo doesn't mind the odd mad fan though, he says he has worked so hard to get where he is and he would never take it for granted.
"I'm someone who loves it, not someone who does it for the glitz and glam, someone who actually lives and breathes it. It's been my whole life and it is my life."
LOWDOWN
Who: Jason Derulo
What: Self-titled album released in March
When and where: November 15 at the Logan Campbell Centre
-TimeOut