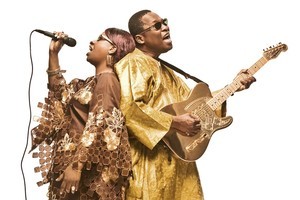 A blind couple from Mali will be the stars of what is one of the strongest Womad line-ups in years when the three-day world music festival returns in March.
In recent years, Amadou and Mariam - whose latest album, Welcome To Mali, got a five-star review in TimeOut last year - have supported Coldplay on the Viva La Vida tour, opened for Blur at their Hyde Park reunion shows, and played at the Fifa World Cup in South Africa.
Their music is rooted in a traditional Malian sound but, with hints of reggae, electronica, swinging desert rock and other styles from around the world, they conjure up a joyous and trance-inducing pop groove.
Womad, which stands for World of Music, Arts and Dance, will include acts from 20 countries and will be held at New Plymouth's Bowl of Brooklands from March 18-20.
Returning to Womad are Afro Celt Soundsystem, a collective of musicians from around the world whose music combines Celtic roots, thumping dance beats, and a vast mix of other styles from countries such as Kenya and Senegal.
Meanwhile, the man who turned John Lydon and the Clash on to dub and reggae is also playing. Don Letts was a DJ at the Roxy Club in 1977 and converted the rabble-rousing punk rock masses to the delights and power of the music from Jamaica by playing reggae records between sets by punk bands. As well as forming Big Audio Dynamite with Clash guitarist Mick Jones, he's made a name for himself mostly as a DJ, filmmaker and artist.
The Caribbean will be strongly represented by reggae great Horace Andy (last here with Massive Attack in March) who will be up to his skylarking best with his band Dub Asante; Calypso queen Calypso Rose from Trinidad and Tobago; the 10-strong Creole Choir of Cuba who sing songs from Haiti, Dominica, and their homeland; and 15-piece big band Juan De Marcos Afro Cuban All-Stars.
The line-up also includes Irish storytelling singer/songwriter Luka Bloom, the distinctive soaring voice of Islamic devotional singer Faiz Ali Faiz from Pakistan, British multi-instrumentalist and composer Nitin Sawhney, Brazilian soul musician Seu Jorge and his recent collaborators the trio Almaz, and, possibly one of the more intriguing acts, Rango, who are described as "sonic voodoo from Sudan".
The local line-up of acts include the newly reformed TrinityRoots, who play in Auckland this week as part of their reunion tour, electronic musician and one half of Pitch Black, Paddy Free, the Topp Twins, laid-back genre-bending dance band Sola Rosa and Nga Tae, a project featuring Paddy Free, and taonga puoro musicians Richard Nunns, Waimihi Hotere, and Horomona Horo.
As well as music and performance across seven stages the festival also includes artists talks, musical workshops, and live cooking demonstrations.
Tickets on sale now from Ticketek. For more information go to here.
Full lineup
Afro Celt Sound System (Africa/UK)
Amadou & Mariam (Mali)
The Barons of Tang (Australia)
Bob Brozman (USA)
Calypso Rose (Trinidad and Tobago)
The Cat Empire (Australia)
Compagnie Ekart (France)
Creole Choir of Cuba (Cuba)
Don Letts (UK)
DVA (Australia)
Faiz Ali Faiz (Pakistan)
Hanggai (China)
Horace Andy and Dub Asante (Jamaica/UK)
Juan De Marcos Afro-Cuban All Stars (Cuba)
Luka Bloom (Ireland)
Nitin Sawhney (UK)
Rajendra Prasanna (India)
Rango (Egypt/Sudan)
Seu Jorge and Almaz (Brasil)
Tanya Tagaq (Canada)
New Zealand acts
TrinityRoots
Sola Rosa
Carolina Moon
Maisey Rika
Nga Tae
Paddy Free
Rhombus with Michel Tuffery
Topp Twins Summer Hoe-down
Taste the World