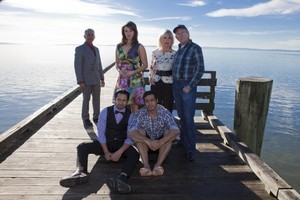 Arthur Miller plays are like good casseroles; they're conventional and a bit old-fashioned, but satisfying and full of meat to chew on.
A View from the Bridge is a well-crafted Greek tragedy transposed to Little Italy, Brooklyn, narrated by a fatalistic lawyer (George Henare, as dignified as ever).
Longshoremen and illegal immigrants stand in for ancient kings, carrying weighty themes of family protection, betrayal and justice on their stooped shoulders, made desperate by poverty.
In an inspired stroke, Miller throws a Romeo into the same small apartment as a Juliet and her guardians. Claustrophobia results. Uncle Eddie (Bruce Phillips) claims the loud and seemingly naive Rodopho (Robbie Magasiva) doesn't love Catherine (a wonderfully lively Anna Jullienne), but just wants to marry her to become a US citizen.
The snarling tension is riveting to watch as it slowly ratchets up, particularly as all the characters' motivations are shown in a sympathetic light.
We understand them all, even as they're at loggerheads with each other across the coffee cups.
For this production, the latest directed and produced by the remarkable Jesse Peach, the audience is divided into halves on opposite sides of Emily O'Hara's sparse platform set. We're all as close as possible to the stage.
The principals are universally excellent and Phillips is particularly impressive.
The rumble of minor chords at frequent intervals might be over-egging the foreboding a little, but wardrobe designer Lynn Cottingham has dressed Catherine in bright colours as a useful counterpoint. Significantly, Eddie is the only character not to get a change of clothes; overalls are kept on as a badge of his honourable hard work.
The play's one dated element is the supposedly central, but actually unnecessary, heavy-handed dollop of Freud.
Eddie, it seems, is named after Oedipus, although he's more of a male Cassandra and Phaedra rolled into one. This production doesn't emphasise the possibility, but Eddie might be both mad and right.
At $35, solid and thought-provoking.
What: A View from the Bridge.
Where: Tapac, Motions Rd, Western Springs.
When: Until October 31.