Rufus Wainwright is heading here with a show which puts extra demands on him and his audience. He tells Russell Baillie why.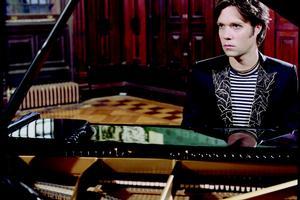 Many a musician goes on the road with a new album. Not many expect their audience to sit in silence when they then play the whole thing.
But that's the deal with Rufus Wainwright and the concerts he brings to New Zealand this week.
The first half of the show is a performance of All Days Are Nights: Songs for Lulu, his piano-and-voice song cycle which includes his own lyrics, adapted Shakespeare sonnets and the aria of his first opera Prima Donna which debuted earlier this year.
On record it's an intense affair, several deep, dark steps removed from the emotionally fraught, often extravagant pop of his previous albums.
But the audience silence required for its live incarnation isn't out of reverence for the album's part-inspiration - it's for the passing of his folk-singer mother Kate McGarrigle earlier this year. And because that's how it's done in the classical world, in which he also operates.
"If you go to the opera or you go to see a chamber concert or a song cycle concert, that is what you do usually," he says down the line from another American tour stop.
"In the pop world it's quite different and I enjoy that. But with this, I am not there to garner applause; I am there to attack the music as intensely as possible. It makes me try harder you know."
Though its instrumentation is sparse, the execution sounds a challenge, both technically and emotionally. Especially when every night on tour he plays it song-by-song to the same silent response.
"It is very, very demanding. Though some of it's the easiest stuff I have written too. But there are tunes in there that are mountainous in their challenges. I have always mirrored my inner turmoil with my artistic pursuits. I am strongly bound as to what I do on stage as to what I do in life. So I've never really separated the two. This is just who I am and my makeup."
Wainwright's formerly drug-dependent life and family history - his father, McGarrigle's ex-husband is acerbic folk singer Loudon Wainwright III, his sister is singer-songwriter Martha Wainwright - has long informed his confessional romantic songs. The latest album is about mourning his mother before her passing as well as reflecting on his now sober, stable life.
"She heard the songs and she loved it very much. But I would say by the time I had finished she was quite ill and couldn't give me her full kind of attention that she usually did for my releases. And that was a lesson in itself. There was a moment about a month before she passed away where it was basically understood and that Martha and I had to put away the music and focus on what was going on in life and in death. If anything [the album] was more an eerie kind of foreshadowing of her death."
All Days are Nights maintains another Wainwright tradition - the song about another of the musical clan. It's a custom which Loudon started with Rufus is a Tit Man before he walked out on his young family. His children continued with stinging odes to their father. Rufus's new song Martha, however, isn't as barbed.
"She loves it. She was a little scared at first ... But when she listened to it, she realised it was a love song and it was just about reaching out and she loves it."
It's a lighter moment among the album/live set's otherwise protracted wallow in despair which comes with a mood-enhancing video backdrop.
"It's very arty. I am really going for something. Some people love it, some people don't get it but it is in that tradition of Rufus pushing the envelope or flicking the switch and trying to do something different.
"I really go for the jugular in terms of depression and sadness and morosity. I just felt that this is the nature of my life. I just have to dive into this tragedy in order to get out the other end."
And he does allow the light - and applause - to return for the second half of the show.
"I am singing all the old favourites and have a laugh and lighten the mood."
And Wainwright certainly knows how to do that. His previous album, Rufus Does Judy at Carnegie Hall, was a live recording of his tribute to gay icon Garland's legendary 1961 concert. More recently he duetted with Kylie Minogue at a New York benefit concert.
The first star he loved from this part of the world was Dame Kiri Te Kanawa. He complimented her as a "cool bitch" at his last Auckland show in 2008. But despite his career taking him into opera circles, he hasn't met her.
"I haven't and I have always always wanted to. I am a great fan of hers. One of my first big opera recordings that I got into as a teenager was her singing Strauss' Four Last Songs, so I owe a lot to her."
LOWDOWN
Who: Rufus Wainwright, Canadian-American singer and composer here on his second visit with sixth original album All Days Are Nights: Songs for Lulu
Where and when: Oct 28, Christchurch Town Hall; Oct 30 Michael Fowler Centre, Wellington; Oct 31 Civic, Auckland.
-TimeOut