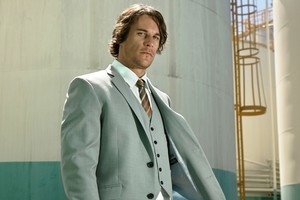 What goes on tour will not be staying on tour when broadcaster Jeremy Wells joins the New Zealand Symphony Orchestra as it heads to Europe.
The former Eating Media Lunch host will again be working with regular collaborator, director Paul Casserly, to make a documentary for Prime television on the NZSO's tour of some of the most prestigious concert halls in Europe.
It seems an unlikely partnership. Wells is known less for his love of classical music, more for asking questions such as "would you rather be fashionable or deaf?" of fashion week celebrities, but this won't be a brand new experience for him.
"An old friend took me along to Tchaikovsky's 1st Piano Concerto probably six or seven years ago," said Wells. "I was blown away. Ever since then whenever I can go I've tried to go. It's a great experience."
NZSO Chief Executive Peter Walls was immediately taken by the idea.
"Someone said to me 'look, you better have a look at an episode of Birdland to make sure you want to get into this' and I did, and I thought it was fantastic."
Walls says anything that demystifies symphonic concerts has got to be good.
"I think the thing that impressed me most about Birdland, was ultimately the respect for what he was talking about, and since we knew he was a great fan of classical music, and comes to our concerts, it just seemed like an excellent fit."
The tour, coinciding with the 64th anniversary of the NZSO's first rehearsals, is a major undertaking. Moving 90 players to 12 concerts over 19 days is a logistical nightmare.
"It's tough," says Walls. "There is a lot of travelling and a very demanding schedule of rehearsals and performances. On this tour, the concerts are mostly night after night after night."
It's not just the players under stress. The instruments travel in temperature-controlled trucks and aircraft holds and they "acclimatise" to the atmosphere before they can be played.
Wells' love of classical music isn't the only aspect that attracted him to the project.
"It's a great people-watching experience, and actually a great smelling experience, the smell of Chanel No. 5 permeating through the hall, because you don't smell Chanel No. 5 at a TrinityRoots concert."
The Grand Tour will screen on Prime television in mid 2011.