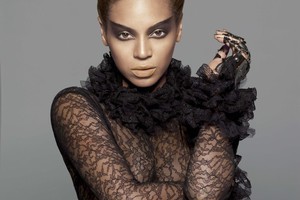 American singing superstar Beyonce Knowles is pregnant, according to a report.
Us Weekly credits a source close to the singer as saying the 29-year-old, who is married to hip hop mogul Jay-Z, is in her first trimester.
Apparently the news came as a surprise to the power couple.
"B was shocked. She loves kids, but she wasn't ready to be a mother just yet," a source told the magazine. "She really wanted to get her album done and tour the world again."
Another insider told the magazine that Beyonce realises that "this is a gift from God and she's so happy".
The singer and her 40-year-old rapper husband, real name Shawn Carter, married in a secret ceremony in New York in 2008.
Record producer Kevin Liles, who is a friend of the couple, reportedly told Us Weekly: "Jay has been all about family since I met him, and he's always going to be.
"I wish them the best."
The Grammy Award-winning singer's sister Solange told the magazine: "She's got the most beautiful heart. She'll be a great mom."
- NZ Herald staff