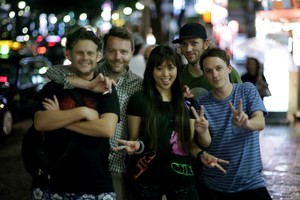 Roving DJ Nick Dwyer returns with the latest installment of Making Tracks, his TV show celebrating Kiwi music by persuading local musicians in far-flung places to cover a NZ hit, their way, and filming the results. In his words, here's how his latest trip played out:
1 - Buenos Aires
Song: Always On My Mind by Tiki Taane
Covered by: Acoustic surf band Onda Vaga
The live music scene is amazing. The style of music we see in the show, cumbia, is not as well known as tango and bossa nova, but it's everywhere over there. It's what their grandparents were listening to. It was so cool seeing how much Onda Vaga loved the track immediately and it's testament to Tiki's songwriting ability-it's just a beautiful simplistic pop hit. Even translated into another language it sounded like perfection.
2 - Beirut
Song: Brother by Smashproof
Covered by: Electronic musician Zeid Hamdan, rapper RGB, and blind oud player Mustafa Said
Making Tracks is very much about the journey of these cover songs, but the other important thing about the show is giving the audience an insight into the history and culture of these places. In Lebanon it's that old story: these guys have been ravaged by war for the past three decades yet the people are the friendliest, most generous people I've ever met. In Beirut they don't know when it's going to turn to shit again so they live life to the fullest.
3 - London
Song: Not Given Lightly by Chris Knox
Covered by: Post-rock indie band the Invisible
I always hated London because I always [visited] there in November and December when it's grim. But London in summer is a different beast. We talked to people like Damon Albarn [Gorillaz, Blur] and Mark Ronson; nothing says London in summer like a music festival so we went to Lovebox; and we got this really amazing band called the Invisible on board. It was one of those scenarios where these guys are really busy, but here's this guy from New Zealand with a great song. They loved Not Given Lightly.
4 - Port of Spain
Song: Can't Get Enough by Supergroove
Covered by: 30-piece steel pan orchestra Phase II Pan Groove
Trinidad is probably the most musical nation in the world. It's the home of carnival. Everything they do culturally is in some way, building up to those two days of carnival every year. When I was a kid I had this game called Pirates and it was set in the 16th century Caribbean. I got familiar with all these places and really got into their music. And I love the steel pan drums. They are just so evocative of a beautiful, exotic, summer adventure.
5 - Kiev
Song: Morning Light by Concord Dawn
Covered by: Folky chaos quartet Dhaka Brakha
It's only been independent for 19 years so the artists we met were very passionate about reviving the Ukraine of old. And Dhaka Brakha are like nothing else. They call themselves an ethno-chaos band. All my life I've been obsessed with discovering new music, and these guys tap into this ancient Ukrainian folklore. They travel around finding old songs from pagan times, and rearrange them. It's this dark, medieval, mythical sound like nothing I've ever heard.
6 - Tokyo
Song: Walkie Talkie Man by Steriogram
Covered by: "Death jazz" ensemble Soil and Pimp Sessions
As a kid I was a big fan of video games and in Tokyo we managed to track down one of the guys who was the composer of Donkey Kong and Super Mario Brothers. We don't really realise it, but some of the most influential music to come out of Japan are those songs.
The guys who did the cover are kind of like the Fat Freddy's Drop of Japan - hugely successful but very underground. Walkie Talkie Man was a hit in Japan and their version is fruity. It reminds me of the band from The Muppets.
7 - Paris
Song: Hope by Fat Freddy's Drop.
Covered by: Blind Malian/French duo Amadou & Mariam
[Paris is] such a beautiful city. We were lucky to get Amadou & Mariam on board. They are huge. They played at the Fifa World Cup, they supported Blur at Hyde Park, and we managed to catch them before they went off touring again. We also spent time in a part of Paris called the 92 Department where the immigrants from North Africa live, and it's the Paris they don't want you to see. But that's where all the hip-hop and the stunning music comes from.
8 - Accra
Song: Bathe in the River by Hollie Smith and Don McGlashan
Covered by: Reggae rapper Wanlov the Kubolor
They call Ghana "Africa for beginners". It's quite tame but it's still mad. What was beautiful in Ghana was how Wanlov the Kubolor took the notion of Bathe In the River and changed the lyrics to have meaning in his life. He talks about the beautiful river in Accra he used to swim in as a child but now it's become a gutter. We shot the video in the ghetto area of Nima. Not even news crews go there, but because of the nature of the project everyone was cool.
LOWDOWN
What: Making Tracks, taking New Zealand music global
When: Tuesdays, 10pm, C4
-TimeOut