Rating: 3/5
Verdict: Beautiful but sometimes idle fifth album from Tennessee's finest.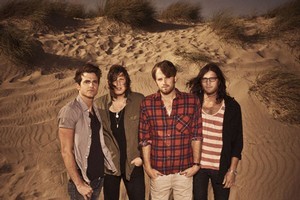 The title, Come Around Sundown, pretty much sums it up. It's a stunning time of day, the sun is soothing, the light is perfect and some of these 13 tracks are among the most beautiful moments the Nashville-based band of brothers (and their cousin) have come up with. But as well as beauty, sundown also conjures up images of slumber and knocking off for the day. So songs like Beach Side (a breezy, almost TV theme-style ditty), Mi Amigo (which has some inspired brass but nearly lopes to a halt), and the nicely titled yet dithery Pony Up, have a laid-back mellowness to them that comes across as idle and ineffectual. They fall into the "lovely but bland" category rather than grabbing you by the you-know-whats like Molly's Chambers, Charmer, and The Bucket have done in the past.
What it means is Come Around Sundown doesn't transport you anywhere like the band's previous records. Even though their last album, Only By The Night, was the band's most polished and biggest-selling to date, it still had the feverish Sex On Fire and raw simplicity of Revelry to give it some grit and roughness.
Because that's what you want from the Kings of Leon: some dirty, long-haired stubbly party music you can make out and dance to. But they haven't been that band for a while now, they're something far bigger and grander than that, and it may have bred some complacency in the ranks. Who knows?
Although, when they do lay down their whiskey-slugging, thigh-slapping roots, there are a few belters, like first single Radioactive, a kind of gospel country barbecue homage to the south; Mary is a wall of sound creation with a stomping country twang to it; and stand-out No Money, which is like something their contemporaries the Strokes might have come up with if they came from Tennessee.
There is also no denying the beauty of Come Around Sundown; Pyro soars with frontman Caleb Followill's line, "I won't ever be your cornerstone"; Back Down South, with its fiddle and hand-claps, is as hick and country as the Kings have been in a long time. The lovesick, biffo refrain of Pick Up Truck is a towering end to an album that could have done with some editing. You can't be too down on the Kings, because not many bands these days have released five albums in seven years. But "could do better" next time.
-TimeOut