Paula Green tells Linda Herrick about a cancer diagnosis which led to a renaissance of writing.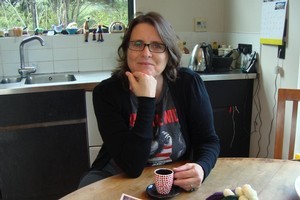 Three years ago, when Auckland poet, children's book writer and Herald book reviewer Paula Green was recovering from a partial mastectomy in North Shore Hospital, her husband, artist Michael Hight, asked "Nurse Ratched" to phone him when it was time to collect his wife. The ensuing exchange is distilled in Green's new collection of poetry, Slip Stream.
"He had asked the nurse if she would call him when it was time to collect her. We can't be making hundreds of calls a day, the nurse snapped, so she snapped right back and snapped at her for asking personal questions in the waiting room ..."
As a consequence, "someone wrote DIFFICULT in capital letters on her chart and everyone tiptoed round her like she was a ticking time bomb. She's actually quite nice, said the night nurse."
"When I was being processed for surgery, [the nurse] asked me all these private details in the waiting room in front of other people," Green, 45, explains. "When I told her it wasn't appropriate, she snapped at me, then she snapped at Michael.
I was about to have surgery for cancer and it was her job to be calm and treat me with respect. I told her, 'I'm an articulate person and I can stand up for myself - but what about the person who can't?"'
Slip Stream charts a trauma we all pray we never have to face: the discovery of cancer, followed by surgery, then more surgery (for another mastectomy), radiotherapy, radiation burns, nerve damage. Her spirits, generally, were positive even though she kept getting bad news.
"I had a regular mammogram. My first one, at the end of 2006, picked up something that was abnormal. I felt that nothing would be wrong. I called the book Slip Stream because I ended up being in the 'slim margin' - they'd say that there is a very small percentage of women that this will happen to, and I always ended up in that small percentage."
When the doctor initially told Green she'd have to have a partial mastectomy, she says she felt "calm and rational". Then the shock set in: "In the organic shop she thinks she is hallucinating, the organic produce produces streams of organic colour ... nothing feels solid enough to walk upon, but she takes her apples and pears to the inorganic car trying not to fall through organic space or slip through to another universe."
Green's GP recommended that she talk to a health psychologist, which she says helped considerably.
"She said if you have someone like that, you can say anything you like whereas my friends and family, they were going through their own thing and weren't necessarily the best people to talk to ... people were telling me I was going to be all right but that is quite disconcerting because no one knows how you are going to be.
"I had 99 per cent of me which had a really good positive attitude and I felt really good but inside, hidden, is this core of you and that is really the panic, the fear of death, the fear of pain. No one knows how they are going to deal with it.
"I knew people who had cancer and I felt the way they were dealing with it was not the way I was going to - for some people it's like going into battle, they are going to fight it. I have never used war jargon to talk about my relationship with cancer."
An unexpected side-effect of the cancer diagnosis was "an unbelievable renaissance of writing".
"Within 24 hours Aunt Concertina and her Niece Evalina [the children's picture book she created with Hight, which was published last year] came into my head. That was the first thing I wrote. Then I wrote the funny poems, Macaroni Moon, which felt like a real challenge. To go into schools and read Macaroni Moon and have the children laugh, that surprised me. Rather than going into battle, I felt like I was going into life and the writing was one of the ways of feeling full of life."
Green's experiences in the hospital gave her "lots of fertile moments" as a writer, which she recorded in a notebook. However, she didn't start transforming her observations into the poems until she had been given the all-clear.
The day of the operation, "He left her in the second room, all the boxes ticked and she packed away her street clothes, dressed herself in cobalt blue, blue feet, a matching hat and the infinite scope of the present tense."
"I got the La-z-Boy chair and I was reading Kate Atkinson's One Good Turn," she recalls. "Meanwhile, on the other side of the room there was a TV on the infomercial channel blaring out and I was thinking about the ludicrousness of this image - media selling us products as we were about to go under the knife."
Detective fiction, chocolate, music and the Herald's cryptic crossword (some of the clues float through Slip Stream) got Green through long hours and long nights, when that tiny kernel of fear would expand like a sponge. "In the dead of night, that inner core, those deep-seated feelings would rise up and I heard other women, who were full of smiles and upbeat during the day, sobbing. The family and friends would have no idea. The health psychologist explained to me that those frightening thoughts would arrive but you treat them as though you are at a railway station. That's arrived, you expect them to turn up and then they move on. It really helped - you don't agonise over it."
For the past two years, Green, working with poet Harry Ricketts, has poured her energies into the comprehensive 99 Ways into New Zealand Poetry, "exploring everything about the craft of writing poetry and reading poetry. But with this, I just wrote it. It's different from my other collections when I've been a lot more technical but this is written from that little core inside me, the fear, so it is deeply personal."
Slip Stream (AUP $24.99)