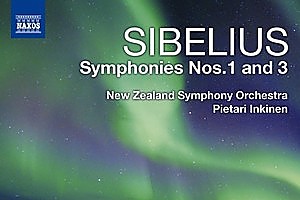 Rating: 5/5
Verdict:"Orchestra, conductor and producer prove the perfect team for promising Sibelius venture."
There was a nagging sense of deprivation in some quarters last year when Auckland missed out on Wellington's Sibelius cycle with the New Zealand Symphony Orchestra under Pietari Inkinen.
Some amends are made with the first instalment of what will eventually be a series of Naxos recordings of the seven symphonies.
And what could be a more inspired coupling than putting the First Symphony, a close runner-up in popularity to the inevitable Second, alongside the more elusive Third?
While Sibelius' first symphonic venture looks over the Russian border to Tchaikovsky, particularly in its robust climaxes, the Third takes its symphonic responsibility a little more seriously - certainly in its tightly-knit first movement.
There is no Slavic grandstanding in this later work; its Andantino con moto diffuses Dvorak sunshine with the mists of Nordic melancholy while its Finale looks forward to leaner times ahead in the Fourth Symphony.
Inkinen's comparative youth has him tackling the First Symphony with just the right immediacy and impetuousness. Its storm of a Finale comes with the same thrill factor as flying over Finland's mighty Salpausselka mountains.
Inkinen gives us innocence instead of sentimentality in the Andante and a bracing Scherzo, with its strange Spanish evocations, showcases Tim Handley's expert production, bringing together the many strands of colour that make up Sibelius' symphonic tapestry.
The first thing that strikes one with the Third Symphony, especially in this recording, is the sheer openness of the sound. There are none of the "big tunes" of the earlier Symphony; it even has its misterioso moments, as in an other-worldly tranquillo scale just before the first movement reaches its three-minute mark. This turns out to be the gateway to some wonderful pages that benefit from almost chamber music precision, and production values to match.
Indeed, it is the teamwork of musicians, conductor and producer that makes this Symphony register so brilliantly, particularly in the waltzing enchantment of its second movement. Further instalments of this Sibelius cycle are eagerly awaited.