Spanish star and ex-rugby rep Javier Bardem tells Michele Manelis why he's tackling something lighter.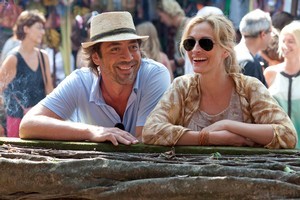 Spanish actor Javier Bardem has probably never looked more appealing than he does in Eat Pray Love, starring opposite Julia Roberts.
The film is based on the "love it or hate it" autobiographical best-seller by Elizabeth Gilbert, about a self-obsessed woman 'finding herself' after the demise of her marriage, by living out her midlife crisis in the exotic locales of Rome, India, and Bali.
In his feature directing debut, Ryan Murphy (Glee, Nip Tuck), brings out the lighter side of the typically intense Bardem, who is a welcome relief each time he appears onscreen.
In fact, Ryan was so enamoured with the Oscar-winning actor, there is talk of him appearing on his hit TV show Glee belting out a couple of heavy metal tunes (although it remains to be seen whether Bardem's interest was in jest).
"After I did a heavy movie like BiutifuI I needed to go to a place to play a guy who was happy with himself.
I wanted to play lighter, be softer, more like flowing in the wind. Eat Pray Love was a very positive experience for me," he says.
BiutifuI by Mexican director Alejandro Gonzalez Inarritu won Bardem a best-actor prize at the Cannes Film Festival and is among contenders for foreign-language honours at next year's Academy Awards.
In the past Bardem has avoided roles which exploited his unusually rugged features disguising his good looks behind some of the most horrendous cinematic haircuts ever seen. Case in point, his Oscar-winning role in No Country for Old Men took bad hair to a new level, and in the same year, Love in the Time of Cholera, featured another follicular mess.
It was Woody Allen who recognised his sensuality and cast him in Vicky Cristina Barcelona opposite Scarlet Johansson and Bardem's future wife, Penelope Cruz. It wasn't the first time Bardem has worked with Cruz. He starred opposite her many years prior in Jamon Jamon in 1992, a role that them household names in Spain.
"It's a mistake to make too much about how your physicality. People grow older, they put on weight, and then that ends, and you have to think, where are they now?" he says.
It's a balmy evening in the resort town of Cancun, Mexico, and Bardem is a few days shy of marrying Cruz. Famously protective of his private life, he doesn't discuss anything even remotely relating to his own personal relationship.
Sticking to safe subjects like the movie at hand, he says of its heroine's personal dilemma, "We all have these kinds of crisis in our life. With every age comes a different crisis. When I think what I was doing at 20, I think, 'Oh my God, did I really do that?' but at that time, it had meaning. That's how you learn. So, if you're asking me if I've had a mid-life crisis, then no."
The novel, which very much epitomises the dubious term, "chick lit" is not the kind of literary fare one can imagine Bardem curling up with on his sofa. He laughs. "Well, no, I didn't read it before I got the script. I was interested to see what it's all about and I found very poignant moments in the book that has some relation with all of us. It's about getting lost and becoming yourself again."
Easygoing in person, he is the youngest son of a family of actors from Spain's Canary Islands. His breakthrough role in Hollywood came in 2000 with Before Night Falls. Although not as quintessentially handsome as his Spanish predecessor Antonio Banderas, he has a natural "man's man" appeal which women also gravitate towards.
In fact, he earned a place in People magazine's Most Beautiful edition in 2008.
Not bad going for someone who was a member - flanker then a prop - of Spain's under-16 and under-18 teams and who made a brief appearance in national squad. "Rugby left me with two hernias and a broken nose. I'm a lucky man, and I know that."
Like many actors, Bardem is motivated by fear. "It's an actor's curse. There's always a fear of not being able to perform what you were hired to do. My mother used to tell me that. She was working for years and years as an actress but explained that this fear will never end," he says, and takes a drag of a cigarette. "I guess fear is what keeps you motivated. When you don't feel it, something is wrong. The insecurity keeps you alert, keeps you alive."
By all accounts, Bardem is indeed a fortunate man. Married with a baby on the way (reportedly due in December), he has found his own paradise with Cruz; the couple reside between homes in Madrid and New York. "Paradise is where you want it to be. What I mean by that is, if you really give value to the most valuable things of life, then you can find paradise in the next room - like for me to be surrounded by the people that I love, and being with friends I have known since I was 12 years old," he says. "I just want to be with them and laugh and make fun of ourselves and pretend that everything has no importance. That is paradise, to really laugh about yourself, non-stop, no?"
LOWDOWN
Who: Javier Barde
What: Eat, Pray, Love starring Julia Roberts
Where & when: Screening at cinemas now
-TimeOut