The last episode of This is Not My Life airs tonight, but fingers are crossed for another series, writes Jacqueline Smith.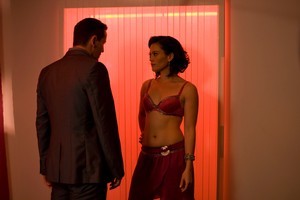 Twisted, local mystery-drama This Is Not My Life, will answer many of its fans' questions when the first season wraps on TV One tonight.
But despite strong ratings and international interest in the show, writer Rachel Lang says it may not be renewed for a second season.
This Is Not My Life was a bold move by Lang (Go Girls, Outrageous Fortune) and co-writer Gavin Strawhan (Go Girls, Being Eve) into mystery-drama territory - a genre that has always been difficult to sell to New Zealand audiences.
Before the first episode aired in July, Lang said she felt the time was right for a new drama that made its audience think.
Over the past 12 weeks, the lead character Alec Ross (played by Charles Mesure) has been trying to figure out why he feels he doesn't belong in the perfect, pastel world of Waimoana and whether there is a way out.
In the first episode he woke to perfect, pretty wife Callie (Tandi Wright) and two lovely children in a designer home with a smart car parked in the driveway, and was told he was Alec Ross.
His first reaction was to run down the street in his underpants - this was not his real life and he was sure of it.
Since then, Alec has led the audience through a complex plot that has revealed layers of truth, but seems to come back to one idea: trust no one.
Recent episodes have seen Alec and his lover Jessica, played by Miriama McDowell, plot their escape from Waimoana with the help of rebel organisation Recall.
Last week's penultimate episode closed with Alec manipulating the Wellness clinic's database in an attempt to give the guy claiming to be the real Alec Ross his life back.
It may sound similar to last year's mystery-drama The Cult, produced by Great Southern Television, in that it is set in a gated community of sorts, but This Is Not My Life's producer Steven O'Meagher of production company Desert Road, insists any similarities between the two are coincidental.
In tonight's nail-biting finale, Waimoana's evil big-brother character Richard (Joel Tobeck) captures Alec and Jessica's accomplice Anna and mercilessly tortures her for information, while Jessica's partner Gourdy refuses to let her out of his sight.
Will they escape? Without giving too much away, it appears Alec will not meet a grisly end, as the series has been left open to another season.
This Is Not My Life opened to strong ratings in July, and according to TVNZ figures, an average of 734, 430 New Zealanders aged over 5 years, tune in each week.
O'Meagher says the free-to-air ratings took a hit when TV3 ran the X-Factor in the same timeslot, but online data shows This Is Not My Life was in the top five most popular shows to be streamed from TVNZ's website throughout August and September.
He says this indicated the show had become appointment viewing for many fans, even when they missed its free-to-air screening.
"Once upon a time, our parents would just watch whatever was served to them. Now we have so many options. However it was viewed [on free-to-air TV, through freeview or online], we know This Is Not My Life has struck a chord."
O'Meagher says the company has received wonderful word-of-mouth feedback from fans, as well as from the residents of Omaha, whose beachside suburb was turned into the eerily stark town of Waimoana for the series.
A TVNZ spokesperson says the website's message boards and facebook page are also full of fanmail.
In July it was announced that American company Lionsgate, the producers of Mad Men and distributors of daring shows like Nurse Jackie, had snapped up the rights to the New Zealand series of This Is Not My Life as well as the format before it even aired here.
Lionsgate will be taking the New Zealand series to television tradeshow MIPTV in Cannes to sell it to distributors and is also preparing an American version of the show. O'Meagher estimates it will be ready for international audiences in six to nine months.
Meanwhile he will be meeting with TVNZ and NZ On Air sometime after tonight's episode goes to air to discuss the possibility of another New Zealand season.
Regardless of whether or not the show receives more funding, O'Meagher says This Is Not My Life has shown New Zealand viewers there is more to a drama series than relationships.
"This Is Not My Life is definitely cutting edge. We certainly regard it as a real success," he says.
LOWDOWN
What: This Is Not My Life final episode.
When and where: Tonight, 8.30pm on TV One.
-TimeOut