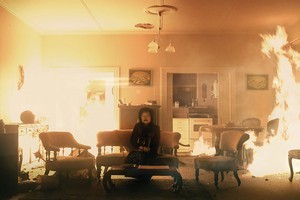 The Christchurch earthquake reminded New Zealanders that their homes are precariously balanced on a temperamental section of the Earth's crust.
This drama reminds Aucklanders that their homes are built on top of a gurgling mass of magma that, over time, has produced the 49 volcanoes that form the city's hills, islands and basins. The latest one to blow was Rangitoto, and that was 600 years ago, but scientists insist it could happen again.
Eruption imagines a new volcano erupts in the harbour, between the Viaduct and Devonport. Only Clive - a passionate seismologist, played by Mark Mitchinson - seems to have noticed the Earth spitting and hissing as it prepares to burst open, and his warnings have fallen on deaf ears.His high-flying wife, played by Nicola Kanawa, certainly thinks she has more important things to think about than what's happening beneath the Earth's crust. At the last minute, Clive manages to convince the national monitoring body to hit the button on full evacuation mode - hospital patients are airlifted out and families pack the car and head for the Bombay Hills. Set in the present day, with Lisa Glass fronting the TV news, the drama follows various households through the evacuation.
In one, a solo mother is in hospital when the tremors hit and her sons are at home alone; in another, a foreign couple living with a superstitious landlord must battle language and cultural barriers before trying to save their own lives.
The 90-minute feature is produced by the Gibson Group, which produced Aftershock, about a fictional earthquake and tsunami in Wellington. Producer Dave Gibson says the company worked closely with scientists to ensure the scenario and special effects were as realistic as possible.
Setting it in Auckland added to the drama, as the city is known for its complex bureaucracy and would be a difficult place to evacuate in a short space of time, he says. The evacuation procedure was based on a real drill run by the Ministry of Civil Defence a few years ago.
Eruption screens on Wednesday to coincide with Civil Defence's "Get Ready" week, which reminds New Zealanders to check they are prepared for natural disasters.
Gibson hopes Christchurch viewers will not think it's too much too soon. "Not meaning to be flippant, but it might be nice for them to see people in another city coping with a different type of disaster.
"[Seismic activity] is on the radar, so now the idea of a volcano in Auckland is intriguing."
LOWDOWN
When: Wednesday, 8.30pm
Where:TV3
What: Rangitoto, the sequel.
-TimeOut