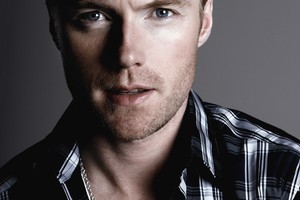 Well Ronan Keating did say he wanted to skip the country after two of his performers faced elimination on the X-Factor Australia last week.
The Irish pop star is crossing the Tasman to present the single of the year and album of the year categories with Brooke Fraser at tonight's Vodafone New Zealand Music Awards. The ceremony, hosted by C4's Shannon Ryan and comedian Ben Hurley, will screen on C4 from 8.30pm tonight - just as Keating appears as a judge on the X-Factor across on TV3.
TV larrikin Jono Pryor will present the New Zealand Herald Legacy Award to Shihad and other presenters include Liam Finn, Robyn Malcolm and stars from The All Whites.
The evening will include performances by Dane Rumble and Gin Wigmore, who are going head-to-head with six nominations along with Shapeshifter, newcomers Kids of 88 and Australian Idol winner Stan Walker.
-TimeOut