On the eve of their return to Auckland, Metallica's Lars Ulrich talks to Scott Kara about the band reaching another significant milestone.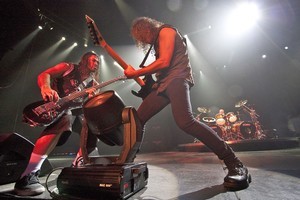 Lars Ulrich doesn't want to be reminded that Metallica will be 30 years old next year.
"Don't say it. Don't say it," he laughs, holding his head in his hands.
He's kidding, kind of, because despite the ups and downs Metallica have had in the three decades since Ulrich placed an ad in a Los Angeles newspaper and hooked up with guitarist and singer James Hetfield, life inside the world's biggest metal band is better than ever.
"Pretty hunky-dory" is how Ulrich, the band's co-founder and drummer, describes the mighty Metallica machine.
"Everybody's playing nice and we've found a way in the last couple of years to balance family and Metallica. And we've finally solved the riddle of how long to stay on the road so we don't jump off the deep end and lose our sanity."
Ulrich is talking to TimeOut in a pokey backstage dressing room before the band's Christchurch shows. There's a massage table ("Sometimes a few of the body parts need a little bit of a repair"), an abundance of protein drinks ("a few years ago it would have been very different"), and the deadened thud of support band Tainted seeping through the concrete walls.
Ulrich, a Dane who moved to Los Angeles when he was 17 to train for a blossoming tennis career before he ended up playing drums, has a reputation as a bit of a big mouth. Yes, the 46-year-old can talk, and probably answers questions with far too much repetitive detail than he has to, but he's a likeable and forthcoming chap. Twice he finishes his rants with "I don't know. I'm just a f***** drummer". He's a proud family man; and what strikes you most is his passion for music.
He watches videos of Deep Purple almost every day on his iPad; on his iPod of late he's been listening to Bachman Turner Overdrive and Status Quo; and says music is what he knows best and where "I dwell".
"It's my comfort zone. It gets me fired up, and to be able to make it your life for 30 years it's pretty amazing."
And while Metallica might be a multimillion-dollar business - with 100 million records sold and millions more in tour and merchandise earnings - Ulrich says these days it's all about the music. "When you strip all the nonsense away - all the hotel suites, the private planes, and all the hooplah - it's just four guys who really love to play music together."
It's especially satisfying these days now that they are getting on well. He sounds genuinely chuffed and amazed when he says the four of them went out for dinner together the previous night.
"It's kind of ... I don't think pathetic is the word," he laughs, "but there is an underlying sweetness to the whole thing now. Everything's cool. Everybody's getting along. We're having a good time. It's stress free."
But as revealed on access-all-areas documentary, Some Kind Of Monster from 2004, which documented the tumultuous time around the recording of Metallica's 2003 album St Anger, it wasn't always so happy.
Hetfield had addiction issues (he checked into rehab during filming), long-time bass player Jason Newsted had left the band, and there was plenty of niggle, soul-searching, and - the bit that made the film so intriguing - band counselling sessions with therapist Phil Towle.
Watching these sessions you couldn't help but feel the band were being a little melodramatic, and, well, a little cracked. It was hardly heavy metal, let alone rock'n'roll.
But even though Metallica eventually let Towle go, believing they no longer required his services, today Ulrich stands by the sessions and what came out of them.
"A lot of the ground work of what's going on now was laid during those years. It was rough. We had to re-evaluate, reconnect, and James had to deal with some things he had to deal with. And Phil said that during all those dark years, all the work would probably not manifest itself, or come to fruition until the next record, and he was right. So we're seeing the result of that now rather than back then."
He admits St Anger - a clangy and difficult sounding album - was not the record they hoped it would be and they don't play any songs off it on the current tour.
"It obviously felt right at the time but it was a peculiar record."
However, during the St Anger round the world jaunt Ulrich says things between the band mates started to settle down. They then took time off following the tour and when they got back to playing they opened for the Rolling Stones - "an up-and-coming band from England who should start appearing on your radar soon" he laughs - and when it came time to start writing for latest album Death Magnetic everything was at peace.
"There was a new serenity in the ranks."
Gone was the power struggle between Hetfield and Ulrich, they had a more collaborative approach to songwriting, and in bass player Rob Trujillo they had found a solid bottom end force. As a result Death Magnetic was a return to their 80s thrash heyday, albeit with a little more polish, and the band's best album since the Black Album in 1991.
In saying that, Ulrich also believes Metallica have always remained "a team" and they have been fortunate not to have had any real casualties in their 30 years together. "We've all lost our minds for short periods of time, but no one's ever gone missing for three months, or ended up in the gutter. You know, we didn't really have these really, really dark sides to us."
On the World Magnetic Tour they are playing like demons - and they're having fun. The holy metal trinity of One, Master of Puppets and Battery is a highlight of the first Christchurch show and as well as new songs off Death Magnetic Auckland audiences can expect a greatest hits set when they play two sold-out shows at Vector Arena next week.
LOWDOWN
Who: Metallica
Playing: Vector Arena, Oct 13 & 14. Sold out.
Essential albums: Kill Em All (1983); Ride The Lightning (1984); Master of Puppets (1986); ... And Justice For All (1988); Metallica (1991); Death Magnetic (2008)
-TimeOut