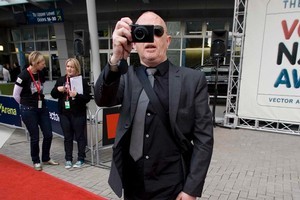 It is the highlight of the social calendar. The Vodafone New Zealand Music Awards invites the who's-who of the music world to strut the red carpet.
If you're lucky enough to have a ticket to tomorrow night's bash and you want to hobnob with the likes of Ronan Keating, Gin Wigmore and Anika Moa then here are some basic ground rules.
The outfit
Think rock chick; not crack chick. If your ensemble resembles something a pimp or pusher would find sartorially attractive then fuggedaboudit.
Black is the staple colour for most, but at the 2007 Tuis "born-again virgin white" was the look du noit for our favourite Christian Petra Bagust.
She paired itty-bitty white cut-offs with a white blazer, but found she was upstaged in the sartorial virgin stakes by Paul Holmes who arrived on the red carpet in an all-white ensemble that channelled some sort of cult-like preacher. Who did he think he was? Brian Tamaki?
Taking a date
It's de rigueur to turn up on the red carpet with a hot accessory. The cougar trend is so over, unless you're an ageing schleb desperate to cling to your youth.
But you find those types more on reality TV shows across the ditch than at the too-cool-for-school Tuis. These days the trend is more offspring or lesbians.
Shihad's Jon Toogood arrived with his beautiful teenage daughter Anaya Paul at the 2008 Awards, and last year, Anika Moa arrived on the arm of her gorgeous fiancée Azaria Universe. The pair married four months later in a three-day wedding.
Making a scene
Don't do it. The S&M gimp lady and her "master" who stormed the red carpet last year without a pass and telling people about their favourite sexual positions was just plain weird.
Boobs
Not since Nicky Watson dated Shelton Woolright have big breasts been in fashion among the cool muso crowd.
Charlotte Dawson strutted the red carpet at the 2005 Vodafone New Zealand Music Awards in a plunging lace doily that accentuated her arguably best talents.
If it was a ploy for attention, it failed miserably. Unless ageing nana was the look she was aiming for.
Beards
The bush is still back. Well, only in the facial hair department. Ben Hurley is co-hosting the show tomorrow and his facial follicles will be right on trend.
Sucking up
Jonny Love was completely snubbed on the 2008 red carpet by some music TV presenter who should have known better. So, if you want to interview musos, it pays to know who they are.
If you are a finalist and you missed out on a trophy this year, or if you have wannabe pop star aspirations, then sucking up to the right people is imperative.
Alcohol consumption
Spy has it on good authority that tomorrow night's bash is catering 11 beverages per head. That's a helluva lot of booze! So, everything in moderation, folks.
It's a long night ahead with a lot of nominations to get through, and you don't want to miss the Shihad tribute because you needed to relieve your bladder.
The after-party
After the lights go up at Vector Arena, everyone will head to the coolest music parties across town.
Only the lucky ones will have tickets to Warner Music's party at a Britomart drinking house where Shihad will be giving a private performance.
Being snapped
Don't do something provocative (i.e. flash or pash another) to get Spy's attention. Okay, you'll get our attention, but you won't get snapped. Remember we're a family newspaper.