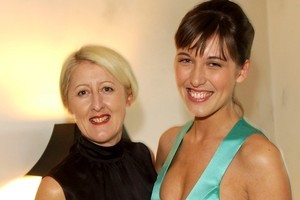 While Fashion Week organisers strangely opted to bring an American designer to our shores on a no-expense-spared junket, one of our own made a splash in the British press last week.
Britain's influential Daily Mail newspaper last week named fashion designer Emilia Wickstead - daughter of fashion designer Angela Wickstead - as a member "of a secret team of powerful advisers" to Samantha Cameron, the glamorous wife of Prime Minister David Cameron.
"Although Sam favours a mixture of High Street and couture," the Mail reported, "when it comes to big events there is one person she relies on: Emilia Wickstead. Outfits for polling day, meeting the Queen and entering No 10 and - most scary of all - being pictured with Carla Bruni-Sarkozy, all came from the New Zealand-born designer's atelier."
It is understood the young Kiwi designer met the First Lady through model Lohralee Stutz, the wife of SamCam's half-brother, Will Astor.
The Prime Minister's wife is said to be a regular visitor to Wickstead's Belgravia showroom, where she stocks both couture and off-the-peg ranges. All fashionista eyes will be on Wickstead's fashion picks when SamCam heads into the Tory conference this week.
Paul Henry's pick for co-star
TVNZ is yet to decide who will replace Pippa Wetzell on Breakfast, but co-star Paul Henry told Spy he has his own picks for co-star.
The People's Choice winner told Spy he is not a fan of Wendy Petrie in the top job. His preference is weathergirl Renee Wright over Wens, though he doesn't believe the newlywed is a contender because "she wasn't tested for long enough on air."
He says Ali Mau does not like the early morning starts and has not put herself in the running. Her role on Fair Go would be prohibitive.
Henry's pick for co-star is 25-year-old One News reporter Heather Du Plessis-Allan - a choice described by a TVNZ spokesperson as "out of the box." Instead, Spy understands Bernadine Oliver-Kerby and Miriama Kamo may be possible frontrunners.
Henry says while he has not been called on for his opinion by network bosses, he believes he has the power to veto a decision, "like the House of Lords," he quipped.
Jane Campion to make BBC drama in New Zealand
Fuggedabout The Hobbit and the union dramas both sides of the pond, at least we can rely on the BBC. The British television network has commissioned Oscar-winning writer and film director Jane Campion (The Piano) to make a new six-part TV mini-series for UK audiences.
Top Of The Lake is a haunting dramatic thriller set in New Zealand about a 12-year-old girl who disappears when she is five-months pregnant.
Campion will retain writing and directing credits. Shooting is expected to start next year around Central Otago, not far from Campion's holiday retreat in the Rees Valley.
The 55-year-old director told Mountain Scene this year the cast "will feature actors from New Zealand and Australia." Being a considerably smaller project than the blockbuster Hobbit films, Australasian unions are not expected to hold the television series hostage before filming begins.
-Herald On Sunday / View