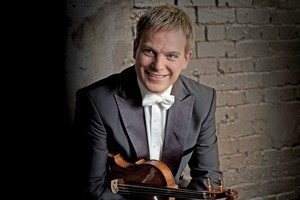 After providing an oasis of cultural class on TVNZ's Good Morning show last week, previewing a piece from their upcoming concert, the NZSO Soloists might have expected a larger audience at the Auckland Town Hall on Friday.
Too many Aucklanders missed an evening of exceptionally well-groomed music-making from the cream of the NZSO's strings; an opening Sibelius Impromptu caught just the relaxed mood that leader Vesa-Matti Leppanen had assured us it would, instigating exemplary standards that were never compromised.
The players were as beguiling to the eye as they were to the ear. Violins and violas played standing, occasionally swaying in formation as they bowed. Harmonies sweeter than cloudberries and cream flowed from Grieg's Cow Call while Arthur Foote's Night Piece radiantly evoked a mood of nocturnal stillness.
Flautist Bridget Douglas was an inspired soloist in the Foote and preceded it with the highlight of the concert - a short unaccompanied piece by Jacques Ibert, dashed off in 1936 for the great Marcel Moyse to play after a Prague performance of Ibert's Flute Concerto.
Time itself seemed to stand still on Friday as Ibert's idyllic rhapsody bloomed through the auditorium.
More substantial works were lined up after interval; the first, Aspects of Peltoniemi Hintrik's Funeral March by contemporary Finnish composer Aulis Sallinen, being based on what Leppanen described as "the most depressing dark tune ever".
Sallinen submits his acquired folk tune to a familiar box of composerly tricks and his musical twists and turns were nicely echoed in the group dynamics of the musicians.
Telemann's Burlesque de Don Quixote was exquisitely played, especially when Donald Nicolson's harpsichord pressed through, but the music itself is dullness incarnate. What a shame the Italian Vivaldi never put the adventures of Cervantes' hero to music.
Mendelssohn's B minor String Symphony, meticulously phrased and nuanced, ended the concert with style but ... something was missing. Where was the New Zealand composer on this occasion, especially when we have such a rich storehouse of works for string ensemble, not to mention numerous composers who would respond imaginatively to a commission? An opportunity grievously missed.