The 1969 album Bitches Brew was where Miles Davis and jazz parted ways, writes Graham Reid.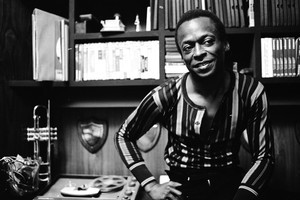 Carlos Santana, who says rarely a day goes by when he doesn't listen to some Miles Davis, believes if you listen to the Davis album Live at the Plugged Nickel - recorded in December 1965 at a Chicago club - you'll realise the trumpeter had exhausted jazz standards such as Stella By Starlight and On Green Dolphin Street.
He's right. By the late 60s Davis, always a restless spirit, was looking around for direction and listening to the sound of the street. Rock bands and soul-funk outfits were connecting to black communities and a younger generation in a way he, in his early 40s, no longer was. Encouraged by his younger wife Betty - a soul-funk singer - Davis was introduced to rock and to Jimi Hendrix in particular, with whom he was scheduled to record.
With electric guitarist John McLaughlin and keyboard player Joe Zawinul, Davis began to break free of the constraints of acoustic jazz.
And whereas previously he would have producer Teo Macero wipe unused takes, in 1969 he insisted Macero record and keep everything that happened in the studio. This paved the way for one of the most innovative and daring albums of Davis' career, Bitches Brew released in late 1969, which saw him sheer away from the jazz of his past.
Bitches Brew alienated his conservative jazz audience but saw him sharing stages with rock bands at places like the Fillmore East.
Yet Bitches Brew is not a rock album the Brew music stands on a cusp between jazz and rock: evocative and atmospheric, edgy (angry in places even) and abstract.
In the studio Davis had assembled a large and interesting cast: new drummer Jack DeJohnette alongside Lenny White, electric bassists Dave Holland and Harvey Brooks, Bennie Maupin on bass clarinet, the young Chick Corea on electric piano beside Zawinul and McLaughlin from Yorkshire who was so influential Davis named a track named after him on the album. Double quartets had been previously explored but Davis wasn't going down the free jazz path. For him, being old school perhaps, melodies were still important - although here they are often truncated, slide in another direction, are picked up by different instruments, or left to hang.
Where much of the jazz-rock fusion that followed is flat tack and headstrong, Bitches Brew lays out its foundations slowly and stealthily. The 20-minute Pharaoh's Dance, the 26-minute title track and the 14-minute Miles Runs the Voodoo Down unroll and weave in and around themselves. They were unlike anything else at the time, and very little since. Because of that Bitches Brew - a masterpiece of assemblage by Macero who employed loops, delays and reverb uncommon in jazz then, and are even today - has a timeless quality, unlike some of the urban funk Davis pursued on subsequent albums like On the Corner which are kinda cool but locked in their era.
This Bitches Brew Legacy Edition is a double disc with alternate takes and the short edits for radio singles . There's also a DVD concert film of a snappily dressed Davis in late 1969 with Shorter, Corea, Holland and DeJohnette playing Brew material - which only illustrates how hard this music was to replicate on stage. It confirms Bitches Brew was a brilliant studio conception.
Later in life Davis took up painting and drawing. But Davis was always a painter in sound, Duke Ellington calling him "the Picasso of jazz".
Bitches Brew is one of his masterpieces.
-TimeOut