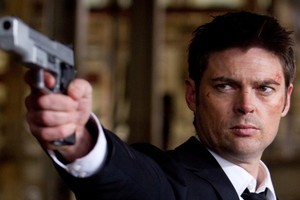 Karl Urban is updating his acting "to do" list.
"Play a vampire, tick that one off: space doctor, done; CIA agent, done; Russian hit-man, done ..."
Urban's rise through the ranks in Hollywood has been on the back of string of sharp performances in action roles but it's not just what he's been doing, it's who he's been doing it with.
From his mate Viggo Mortensen in Lord of the Rings to Matt Damon in The Bourne Supremacy, Vin Diesel in The Chronicles of Riddick and Eric Bana in Star Trek, Wellington born 'n' raised Urban has kept some fancy on-screen company.
But in his latest movie - to use co-star Bruce Willis' phraseology - 38-year-old Urban has "hit the ball right out of the park", working and excelling alongside a veritable acting dream team.
Old timers Willis, Dame Helen Mirren and John Malkovich form an unlikely team of former black ops and intelligence experts who invoke the murderous wrath of Urban's character, William Cooper, a high-tech CIA agent, in Red (Retired, Extremely Dangerous).
Mary-Louise Parker is Willis's love interest while Morgan Freeman, 93-year-old Ernest Borgnine and Oscar winner Richard Dreyfuss are also part of the impossibly well-credentialled cast in director Robert Schwentke's (The Time Traveller's Wife, Flightplan) gag-fuelled, action flick.
"I couldn't believe it, I kept saying, 'They got her? They got him?'," Urban recalls while sitting in a sliver of shade on a ferociously hot day on the set of Red in hurricane-scarred New Orleans. "Suddenly you find yourself among a calibre of artists you just did not anticipate."
Motivated rather than intimidated, Urban's reaction to being cast as Willis' would-be assassin was to work harder. He threw himself into research, reading every book written by former CIA agent and author Bob Baer who was a consultant on Red and doing extensive and fight and weapons training.
"You want to come with your A game," he says.
Indeed, Urban is poised to further cement his spot as a prominent player on the international movie scene with Red and a starring turn in next year's 3D thriller Priest alongside Paul Bettany. He's also recently landed the coveted title role in the comic-inspired sci-fi title Dredd in addition to committing to the next Star Trek instalment in 2011.
It's a full slate, but there is little chance the Victoria University dropout will get lost in the hype. After nearly three decades of honing his chops, his feet are firmly planted in Auckland soil where wife Natalie and sons Hunter and Indy await after each assignment, along with the prospect of a spot of fishing.
"I believe in balance," he says. "I live in Auckland ... I have family there and I have this wonderful international career. I feel really blessed."
Urban, ruling out a permanent move to the US, doesn't even mind the "commute" to work: "It's actually the easiest thing, you hop on a plane, fall asleep and wake up in Los Angeles."
With an acting career that started as an 8-year-old, Urban's diverse career in television (including a long stint on Shortland Street), theatre and film has stood him in good stead in the competitive US market. He's also one of the few New Zealand actors who translated his role in the Lord of the Rings trilogy into an international career.
"Why a lot of Australasian actors are finding success offshore is because the industries [at home] aren't that big, but it forces you as an actor to accept work in all the mediums to make a living and it strengthens you as an artist," he says.
"Typically Hollywood actors get top-heavy very quickly. They're focusing all their energy on their managers and their stylists, their agents, their dieticians - all this focus on everything but the craft."
Willis is vast in his praise for Urban. After the pair literally slogged it out during the shoot in Toronto and New Orleans, culminating in a bruising hand-to-hand combat scene, the veteran actor paid his on-screen adversary the ultimate action-star compliment: "That was a good fight. I would put it up against any fight."
Urban who got the chance to share a bit of New Orleans' rich nightlife with Willis after hours, admitted he probably overstepped the mark at least once in Red.
"It was intense to shoot," he says. "At one point Bruce walks into an office to confront me and I'm drinking a cup of coffee and ... I hurled it at him.
"Just before he got his hand got up there the coffee cup went 'smash' over his forehead and drew blood. Bruce took it incredibly well."
While he's making a mark as a man of action in the US, Urban remains strongly committed to the New Zealand film industry, a relationship that began decades before his beautifully measured performance in the quirky 2000 romance The Price of Milk.
Urban's mum worked at the Wellington production and equipment rental house Film Facilities, and some of the actor's best childhood memories from the early 1980s include watching barely finished New Zealand gems, such as Roger Donaldson's Smash Palace and Geoff Murphy's Utu with the film-makers themselves.
"Every time a film was completed all the crews and the technical people would come to this warehouse where this film rental company was located and they would screen the film on the garage of the building," he says. "We [would sit] on boxes and crates.
"I was not only enamoured with these films, but the culture of the crew and the way they interacted. I was hooked."
Urban's last outing in New Zealand was the bristling Out of the Blue in 2006, and with his schedule full in the near future it might be a little time before he brings his work home again. But he insists, "I'm always on the lookout for a really great New Zealand film to do.
"I want to continue to contribute to the New Zealand film industry. That's where I drew my inspiration as a child. I think that's the strength of New Zealand cinema when you go and see something that you can only get from that country."
"I want to be in quintessential New Zealand films - films that are not American derivative genre pictures."
Seems Urban still has plenty of boxes to tick.
LOWDOWN
Who: Karl Urban, Pacific-hopping Auckland based actor
Past roles: The Price of Milk (2000), Xena: Warrior Princess (1996-2001), Ghost Ship (2002), The Lord of the Rings: The Two Towers (2002), The Lord of the Rings: Return of the King (2003), The Chronicles of Riddick (2004), The Bourne Supremacy (2004), Doom (2005), Out of the Blue (2006), Pathfinder (2007), Star Trek (2009)
What: Red, starring Helen Mirren, John Malkovich, Bruce Willis and Morgan Freeman
When and where: Opens October 28
-TimeOut