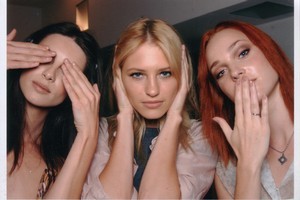 Rating: 3 out of 5
Verdict: A side of the fashion industry you don't often get to see
It sucks to be a model seems to the prevailing message in Picture Me, a documentary that acts as a video diary in which American former model Sara Ziff comes to terms with the perceived shallowness of her career.
Incorporating four years of low-fi footage shot by Ziff's then-boyfriend and co-director Ole Schell, the film begins as a seemingly lighthearted coming-of-age tale; albeit a unique one of a young girl building her career as a model. Ziff flies to Paris, plays with wads of cash in her hotel room, visits the Chanel headquarters, and goofs off with fellow models behind the scenes; all of which helps build up the fashion fantasy. But Ziff and Schell soon bring the fabulousness crashing back down to earth like a supermodel tripping over her own feet on the runway, handing the camera over to their model friends and getting them to speak candidly about their experiences - experiences that are discussed so matter of factly that it's almost uncomfortable to watch.
A photo shoot with a famous fashion photographer turns sexual, a model is in serious debt to her agency, some models do cocaine, Ziff has a breakdown in the bath because she hasn't had a day off in weeks: it's an interesting contrast of the deeply superficial and the deeply troubling. It's easy to cynically think, 'oh poor you making all of that money', and yet it's also easy to watch and be outraged by what some of these girls put up with.
At times feeling a tad self-indulgent (there are only so many goofy glances to the camera from Ziff one can take), the film is ultimately an intimate and fresh look into an industry that many of us never get to see - and a reminder that there's sometimes a dark side to the gloss.
Cast: Sara Ziff, Karl Lagerfeld, Nicole Miller
Director: Ole Schell and Sara Ziff
Running time: 80 mins
Rating: M
-TimeOut