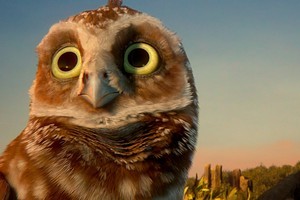 Having delivered the violent special effects extravaganzas of 300 and Watchmen, Zack Snyder sure has a different demographic in his sights on his latest. That's Legend of the Guardians: The Owls Of Ga'Hoole, an animated feature with Aussie - and a few Kiwi - connections.
Based on the first three novels by Kathryn Lasky, Guardians may first appear like a family-friendly fable of fluffy feathered creatures. But it has some graphic battles and grisly visuals. The winged warriors are protected by armour on their beaks, chests, and talons and and due to the ground-breaking CGI, along with it being presented in 3D, the realism might be too much for anyone under the age of 10 - although an older audience is likely to appreciate it.
Snyder disagrees with the idea of the movie's fear factor being too much to handle. "I wanted to make an adventure film like Star Wars or Narnia or Lord of the Rings that I personally as a child [would like].
I wanted to take what Kathryn wrote in the books and treat it seriously because I knew this was going to be a kids' fantasy film. The last thing I wanted to do is - I don't want to say belittle but - smirk at their fantasy that they believe is 100 per cent real and they take 100 per cent seriously. I didn't want it to be like 'Oh! Owls are wearing helmets! Hilarious!' The thing that makes it strong is that it looks real."
Like most family oriented stories, there are tiered themes of good and evil, however extreme. And an allegory to Hitler's Germany, with a group of enslaving owls called the Pure Ones.
Says Snyder, "I didn't want the owls to be morally ambiguous. I wanted everyone to see that they're bad, and they are like Nazis because Lasky [wrote] the Pure Ones as a metaphor for World War II Nazis. And as far as similarities to World War II [go], Geoffrey Rush (who voices war hero Ezylryb) studied footage of speeches made by Winston Churchill."
The two lead owls, Soren and Kludd, are voiced by British actor Jim Sturgess and Australian True Blood star Ryan Kwanten respectively. The rest of the voices are mostly Australian, except for Helen Mirren, Sam Neill, Jay Laga'aia and Emily Barclay, and include Abbie Cornish and David Wenham.
The film used Sydney animation company Animal Logic, whose previous ornithological feature was the penguin comedy musical Happy Feet. Legend of the Guardians is a big CGI upgrade. The movement of the birds, particularly flying through a rainstorm in slow motion is impressive.
"We're using brand new feather technology which is part of the reason why it took such a long time. They look photo-real and yet they still have a lot of expression."
Sturgess thinks that kids will understand the underlying moral message in spite of the violence. "It's about a belief in something and in this case it's that these guardians really exist. For anyone to have a strong belief in something is a good message to put across for kids, I think." Snyder adds, "They say in the movie 'Trust your gizzard'. It means believe in yourself. That is a good message for kids."
LOWDOWN
What: Legend of the Guardians: The Owls of Ga'Hoole
When and where: Opens at cinemas on Monday
-TimeOut