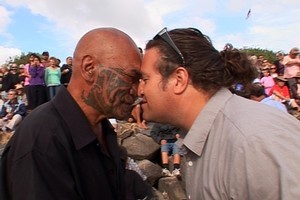 I've just spent a week in foreign climes with no access to English-speaking TV but a surfeit, if you're mad as a monkey, of Euro-gameshows, including a channel which featured robust Germans competing in outdoor frozen chicken-tossing.
So it was a gentle relief to come back to the homely joys of New Zealand television, exemplified by Mikey Havoc's Are You My Tribe? which started on TV One on Monday.
Havoc, the bombast of bFM and, admirably, the bane of John Key's student radio interviews, has been given the mission of enriching his pallid Pakeha inner self by learning more about Maori culture and traditions. A big ask, but hardly a new question - and "why now?" kept popping into my mind.
Havoc ventured into Tuhoe territory for the first part of his journey, confessing to nerves as he was chaperoned as "a foreigner in his own country" for a welcome at a school in the Ureweras where te reo was the mother tongue.
The "vegetarian urban bushman" of Auckland made some cultural blunders: he rubbed a match on his head - a match that would have been used to light the fire to cook kai. Not done. And he gravely offended elder Arthur Black by suggesting that one in four of the children he'd seen in the school assembly would be heading for jail when they reached adulthood, according to national statistics.
Havoc showed guts, literally - I hope we don't have to go through that again - when the lady tohunga spread healing herbs over his puku to release toxins (the like of which they'd never seen before) and asked him if he went to the toilet all right.
He concluded that he was jealous of the sense of identity of the Tuhoe while at times looking as though he might be going to the toilet all right, imminently, as a tourist in his own foreign land. But quite a valiant effort, all up.
Tourism of a sort also played a part in The Fattest Man in Britain (TV One, Sunday) in which odious cabbie-cum-"business manager" Morris ferried foreign visitors to "the eighth wonder of the world": career-fattie Georgie Godwin, played by the splendid Timothy Spall.
As Spall was encased in an enormous fat suit and confined to an armchair in Georgie's tiny suburban lounge, his face and eyes did all the work as he held an audience with the tourists ushered in by Morris for a mere £11 a head, including touching and some excruciating karaoke.
Big Georgie's bravado and pomposity, abetted by neighbour Janice (Frances Barber in full buxom flight), was astounding, given that his life was so small. Trashy chatshows and travel channels were his only windows to the outside world.
That started to enlarge when Amy, a girl hired by the council to do his garden, turned up. Georgie found her Snicker-eating habits fascinating, which erupted into impotent rage when her boyfriend beat her up on his front lawn. Amy, pregnant, moved in and strangely we never saw that yob again which might have added a certain sinister frisson.
Via Amy, we discovered that Georgie had started eating on the day of his mum's funeral 23 years before and he'd never stopped, urged on by Morris - his pimp, as Amy astutely observed.
What happened - Amy went into labour, he fell on the floor and couldn't get up again - was predictable, but thankfully the ending veered from tragedy. As it turned out, Fattest Man was pretty farcical and fanciful. Yet its great charm was in its characters and the life Spall breathed into lardy-lad Georgie, happy as pie "strolling all the way to the hallway" - until Amy turned up.