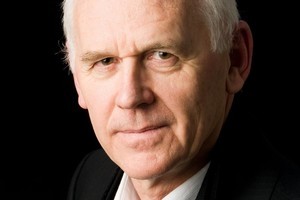 On Sunday, Peter Scholes and his Auckland Chamber Orchestra gave the New Zealand premiere of Christopher Blake's Northland Panels, a brave venture that I am sorry to say received miserable support from concertgoers.
Impressive when first heard individually, Blake's four orchestral pieces, inspired by the Northland images of Robin Morrison, comprised a powerful, if somewhat sombre, quartet.
There was almost an air of reverence in the Town Hall Concert Chamber, instilled by Morrison's evocative images projected behind the players; behind a lectern, Raymond Hawthorne recited poems carefully chosen by conductor Scholes to complement the music.
Jeanette Stace's short Camera opened its lens on Blake's Angel at Ahipara and the final words were from C.K. Stead's With a Pen-Knife. Here, the poet's ironic paean to the power of the pen(knife) reminded us that Morrison's image of the Kaipara Memorial Arch has caught a moment in time that is no more.
On stage, one sensed the ACO strings had been fired by a momentous occasion and the passion that Scholes drew from his musicians almost compensated for rough patches of intonation and solos which should have been far more potent. Only in Night Journey to Pawarenga did one want more weight in the rendering of Blake's curiously Vivaldian textures.
The strength of these scores is that, in paying tribute to the places and people of Northland, they do not forget a tradition of New Zealand string writing that goes back to Lilburn and Larry Pruden.
Blake's language may be relatively conservative, but there is a superb craft at work when a Coplandesque light breaks through in Christ at Whangape. Earlier on, Angel at Ahipara reminded one of the Polish school in its blurring semitones and the composer's dramatic conception of Anthem on the Kaipara featured some extraordinary chord play.
If there were moments that seemed less inspired, such as a stolid fugue in Christ at Whangape, then perhaps a gentle satire was at work. The almost romantic intensity of the ensuing section, in which the tangata whenua undertake their worship, seemed to suggest as much.
What: Auckland Chamber Orchestra.
Where: Auckland Town Hall Concert Chamber.