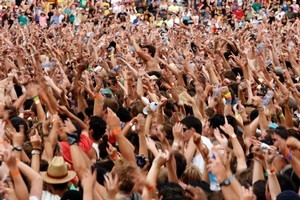 Tool, Rammstein, M.I.A., Iggy and the Stooges and LCD Soundsystem will headline the festival when it returns to Auckland for the 17th time, on Friday January 21st.
The recent craze of performing albums in their entirety has a showing, with Brits Primal Scream performing their 1992 Mercury Prize winning album Screamadelica.
Other international acts confirmed are Nick Cave off-shoot Grinderman, The Black Keys, Deftones, CSS, Ratatat, Crystal Castles, Lupe Fiasco, Wolfmother, Andrew W.K, Plan B, The Jim Jones Revue, Booka Shade, Edward Sharpe and The Magnetic Zeros, Bloody Beetroots Death Crew 77, Die Antwoord, Vitalic, John Butler Trio, Airbourne and Birds Of Tokyo.
Locally speaking, Street Chant, Die! Die! Die!, The Naked and Famous, Bulletproof, Six60, I Am Giant and Kids Of 88 are all on the bill.
What do you think of the 2011 Big Day Out line-up? Here is the latest selection of Your Views: