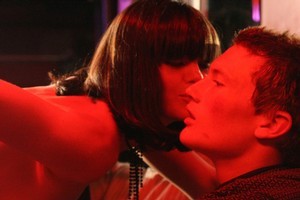 Two New Zealand short films will be screening at the prestigious BFI London Film Festival next month.
Choice Night, directed by Chris Dudman, tells the story of what should be one of the biggest nights in a schoolboy's life so far. Will he stay with the boys, or meet up with the girl?
Leo Woodhead's Zero revolves around a teenager going through life while his father's in prison. It had its festival debut at the Berlin Film Festival in February, in the 'Generation 14plus' section - where films are judged by kids who also stick around and ask questions.
"Yeah like 'why is he so angry?,' says Leo Woodhead, "It's quite cute, really innocent questions that were quite nice, there was no agenda they just really wanted to talk to you."
Both Zero and Choice Night were funded by the New Zealand Film Commission's 'Premiere Shorts' fund.
"They usually have a plan for releasing it, sometimes they'll hold a film back for Cannes or Venice or whatever," says Woodhead, "and with us, Berlin was actually our first choice festival."
Zero was inspired in part by the director growing up in the UK, but also by a couple of kids Woodhead came to know once he moved to New Zealand.
"They didn't have a male role model around, so were kind of lost at an age where it's crucial not to be."
Chris Dudman held out for Cannes, but eventually Choice Night premiered at the Melbourne International Film Festival last month.
"From then it's just taken off, we're into London and then another [yet to be announced] festival, so we're starting quite a good run now."
Both films are based around young people, as are other local shorts The Six Dollar Fifty Man, and Double Happy.
"It's familiar territory for people," according to Dudman, "in fact Choice Night began as a semi-autobiographical story [from screenwriter Paul Stanley Ward] and then developed from there."
Leo Woodhead sees it as a period of life-changing moments that lend themselves well to the short film format.
"It's very easy to tell a coming of age type of story because someone's going through something that's going to define them as a person, so that's often a default from a story telling perspective."
The London Film Festival Artistic Director finds both films inspiring.
"...because they take risks, inspiring because they ask questions, inspiring because they're angry or life-affirming," says Sandra Hebron.
"They make us love and value the art and craft of film - and what could be better than that?"
*The 54th BFI London Film Festival runs from October 13-28.