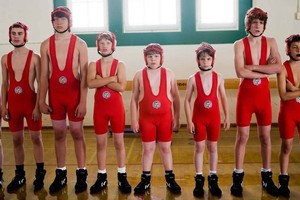 Rating: 3/5
Verdict: Tries too hard to impress, but a solid start to the series
Smarter and wittier than your average kids' film, Diary of a Wimpy Kid is a fun, wacky flick featuring smart observations on pre-pubescent angst and a talented young cast to bring it all to life.
Not familiar with this kids' cartoon novel by Jeff Kinney, it fell to my 10-year-old nephew to judge the authenticity of the film version of the book - it's exactly like the book apparently and "really good". Well, that pretty much sorts out the target demographic then.
Zachary Gordon is initially fabulous as Greg, a cocky, pint-sized 11-year-old motor mouth who is determined to be popular at his new middle school. As good as he is, about halfway through the film his self-absorbed character really starts to grate; thankfully there are plenty of colourful characters around him to make him more tolerable.
Before you know it, you'll find yourself rooting for all the real nerds in this film: Greg's chubby, red-headed best friend Rowley (Robert Capron) and the ultimate geek, Fregley (Grayson Russell). Even Greg's not-so-bright older brother, who torments him on a daily basis, and the revengeful young lady who whips Greg's butt in wrestling are more appealing characters than Greg - that is until he realises friends are more important than popularity.
The pace is uneven and good talent is underused (in particular Steve Zahn and Rachael Harris as Greg's parents), but the messages of friendship, loyalty and being yourself are delivered without being patronising or overly sentimental. If you can handle the precocious lead character, then there's a laugh in here for everyone in the family.
Cast: Zachary Gordon, Robert Capron
Director: Thor Freudenthal
Running time: 92 mins
Rating: PG, low level offensive language
-TimeOut